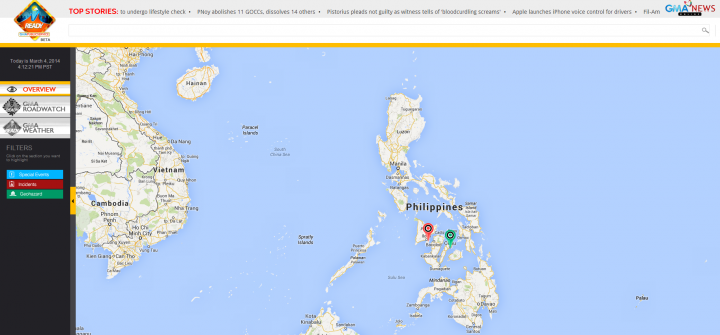 Some say that traffic and natural disasters are the two biggest problems faced by people in the Philippines. A number of startups are trying to help out with both issues, creating apps to help beat the traffic or assist with disaster response.
Philippines' broadcasting network GMA is going for a different approach by trying to hit two birds with one stone. It has created the IM Ready portal to keep people up to date with both the traffic conditions and any natural disaster alerts.
IM Ready has real-time information on traffic situations and weather reports all in one page. Users can check traffic situations under the GMA Roadwatch tab, which uses Waze's traffic reports and the Metro Manila Development Authority's (MMDA) real-time traffic information. Meanwhile, under the GMA Weather tab, there's a weekly weather forecast and rainfall and humidity overview for the entire country.
In addition to this, the web app pins alerts to the map, showing things like accidents and disaster areas.
Information as a life saver
GMA has sealed partnerships with several companies and organizations to make this public service-centric portal possible. Aside from Waze and MMDA, it has also tied up with Google Maps. It has worked hand-in-hand with respective government agencies such as the Department of Science and Technology to provide the alerts and information in real-time.
In the coming months, it plans to also include commute route options, metro train services and fare rates through the data gathered from government agencies such as the Department of Transportation and Communications, Metro Rail Transit Authority, and the Philippine National Railways.
IM Ready Public Service Group head Dr. Carlos Primo David told the Philippine Star that it plans to strengthen online information services in more provinces, especially those which are most at risk of natural calamities.
It's not the first time that a broadcasting company has delved into such problems. In 2011, the MMDA web app was launched by broadcasting network TV5 in partnership with local traffic bureau MMDA.
IM Ready is also set be available as a mobile app for Android and iOS in the coming months.
(Source: The Philippine Star)
(Editing by Steven Millward)