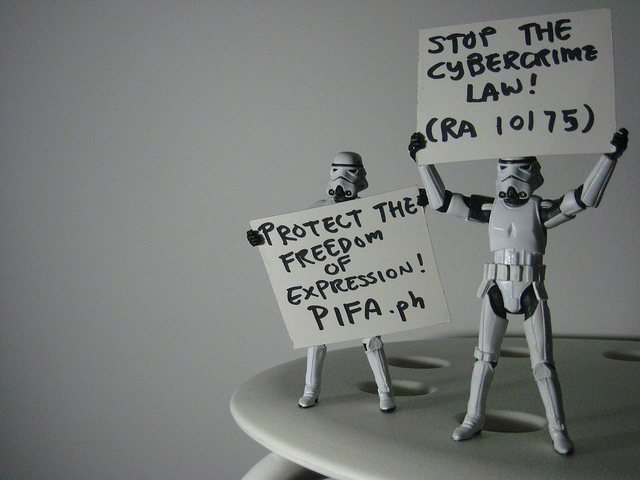 Online libel was deemed constitutional this week in the Philippines when the Cybercrime Prevention Act of 2012, more commonly known as the Cybercrime Law, was put into effect. This has yet again become a controversial issue among citizens who fear curbs to their online freedom of expression. Philippine senator Miriam Defensor-Santiago is outraged by the ruling and has reacted by saying that the online libel clause is wrong and suggested that citizens stage protests.
The new condition of online libel only limits punishment to the original author of an offending post, and doesn't extend to the people who like and share such posts. Santiago calls this vague. "If they are not using their true identities, how are you going to go beyond what they profess to be their identities on the Internet? That is the main problem today," she told Rappler.
In November 2012, Santiago filed the the Magna Carta for Philippine Internet Freedom, a bill that aims to replace the Cybercrime Law. She now calls for netizens to support this bill, and also file a motion for reconsideration against the Cybercrime Law to speed up the process. She also expressed support for a mass demonstration, but reminded the citizens to remain careful not to call the Supreme Court names, as they could be charged with contempt. This may be one of the very few instances in which a government official has urged for a mass protest against the judiciary in the Philippines.
Defense of the president
Meanwhile, Philippine president Benigno Aquino III says the people should have nothing to fear.
The purpose of the law is not to curb freedom of expression, says Aquino. It simply aims to apply a libel clause to digital platforms, similar to what is already applied to print and broadcast media, the president told Manila Bulletin.
Given that citizens are worried over how the law will affect or limit the things they can post on their social media accounts, a number of netizens randomly posted on Twitter using the #NonLibelousTweet hashtag in what appears to be a satiric attack against the government. Aquino signed the Cybercrime Law back in 2012.
(Sources: Rappler | Inquirer  Photo: Flickr user ninjimpo)
(Editing by Josh Horwitz)