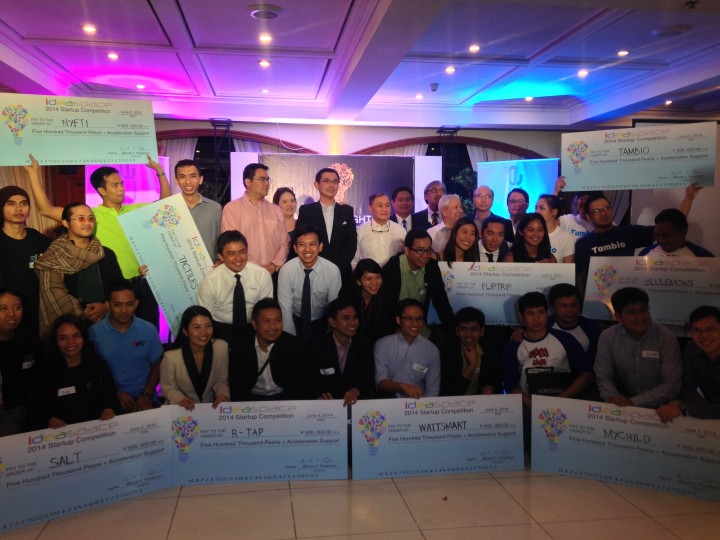 Philippine incubator Ideaspace Foundation announced the 10 winners of its second national startup competition yesterday. The winners are set to move on to the six-month acceleration program and receive at least PHP1 million (US$22,920) worth of seed funding, training and services, office space in Makati City, and housing for non-Manila residents. Startups who successfully finish the program will also be eligible to receive follow-through funding of up to PHP5 million (US$114,600) depending on performance.
Last December Ideaspace opened up applications for tech startup ideas across Southeast Asia. The 10 winners were chosen from more than 20 startups that were picked from an initial pool of 600 applicant teams.
The winners are:
BluLemons – a Filipino-themed mobile gaming studio
FlipTrip.ph – an online Philippine travel platform for itinerary customization and booking
MyChild – An online and mobile platform for parents and schools to work together
Nyfti – a tri-fold bicycle
R-TAP – a real-time pump controller for efficient water distribution
SALt – sustainable alternative lighting solutions powered by water and table salt
Tactiles – a hardware kit for electronics education
Tambio – a platform that provides raffles for merchants
SmartFleet – a technology platform that provides transport fleets with operations automation, booking, and analytics
WattSmart – an online energy audit solution to help monitor electricity use in real time
See: 5 notable startup incubators in the Philippines
Continued support
Despite how this year's competition was intended to expand the Manila-based program's reach into greater Southeast Asia, only teams from the Philippines earned spots in the top 10. Ideaspace president Earl Valencia says:
Less than two percent of the applicants to our startup competition were from outside the Philippines. Out of the applicants from other Southeast Asian countries, one startup from Indonesia made it to the top 20 but opted to not proceed because of undisclosed personal reasons. We're hoping to further improve this percentage for the next round. Hopefully we are contributing in making the Philippines a city of choice for startups in the region. We are also realizing that we need to spend more time and effort to help grow the regional innovation flow.
Nonetheless, Ideaspace saw that its new set of winners represented a wide variety of tech solutions that solve common problems in emerging markets.
The incubator and the judges also saw potential in a number of startups that didn't rank within the top ten. Ideaspace chairman Manuel Pangilinan promised that this won't mark Ideaspace's support for these teams, and the incubator will revisit applications from them in the future.