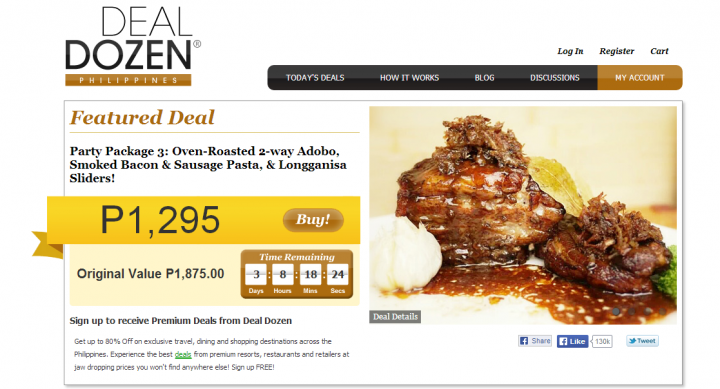 Philippine daily deals site DealDozen has just been acquired by Asia Deal Group, the e-commerce group behind Streetdeal, for an undisclosed amount. Following its presence in other Southeast Asian countries such as Singapore, Malaysia, Thailand and Indonesia, the acquisition allows the company to expand to the Philippines.
Asia Deal Group co-founder and CEO Gregory Costamagna says that the Philippines had been considered in their map of development. And as they took a closer look at the Philippine market, they saw that "it presents the benefits of having a strong and growing online population and a good payment card penetration."
Of the many daily deal sites in the Philippines, the group chose to acquire DealDozen because they were "very impressed with how Deal Dozen has managed to reach such a large audience in such a short time and with limited funding," says Costamagna. He adds:
We also like the very entrepreneurial mindset of its founders, Dustin Cheng and Terence Lok, which perfectly fits Asia Deal Group's culture. We believe that this combination gives the right ingredients for Asia Deal Group to apply its recipe to the Philippines.
Established in March 2011, DealDozen has gained close to 200,000 users. The service works much like other daily deal sites – after registration, users can choose from a available deals from the site that range from food, travel, and beauty and wellness coupons, among others. They can redeem these deals through computer-generated coupons that users can print and present to the merchants.
Cheng also believes that the acquisition of Asia Deal Group will bring the daily deals site to the next level through its previous experience in the different countries in the region. This will also help Cheng and Lok to focus more on their other startup, the smart sticker-based loyalty service Zap.
Rebranding to StreetDeal
In line with this, Asia Deal Group will launch its brand StreetDeal before the end of the first quarter of 2014 by rebranding DealDozen.
Costamagna says it will focus on transitioning all DealDozen customers to StreetDeal within the first half of 2014. The target for the next half of the year will be to increase its member base and revenue in the Philippines by 50 percent.
It will also launch a section of offers curated by local celebrities and create loyalty programs for the Philippine consumers.
It's indeed interesting to see how a new daily deals site can fare in the competition in the country where Philippine-based startup Metrodeal is still leading with over two million subscribers.
(Editing by Josh Horwitz)