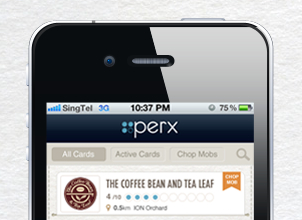 Perx, the stamp card mobile app, has a new feature/campaign called the 'Chop Mob.' I first heard about it when it was still a paper plan when I met Andrew Roth, the co-founder of Perx, over coffee. It sounds pretty interesting and works like the group-buying concept. The first campaign trial was rolled out and completed with The Coffee Bean & Tea Leaf recently.
Within a week, Perx was able to generate over 1,000 'chops' across five Coffee Bean outlets in Singapore. Once the target of 1,000 chops is met, every user who purchased coffee via Perx can claim a free drink from Coffee Bean. The "Chop Mob" is smartly structured to trigger conversations among friends to hit the 1,000 chop goal.
Andrew claims that the Chop Mob campaign has helped increase Coffee Bean's transactions on Perx by 50 percent. He added:
Not too many applications or campaigns out there that move top-line revenue up first. […] We flipped around the economics of group buying by requiring the customer to visit the merchant first and pay full price. If Perx was only about tracking chops, we would be pretty boring.

Chop Mob represents our first step towards being a marketing platform, rather than just tracking and analyzing chops. Our goal is to help merchants increase revenue rather than giving out points and discounts.
Perx has created a way to attract customers, provide them with discounts, and most importantly take care of the merchandisers' bottom line. Perx's competitors includes around!, Squiryl, and Pointpal, all of which are Singapore-based companies. But Perx is the only one testing this kind of concept. It looks successful for the first trial and so the next Chop Mob is probably going to happen some time next week, so we've been told.