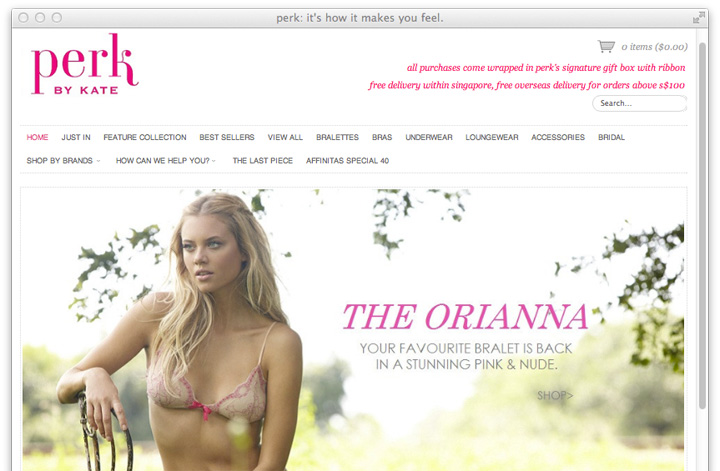 Perk by Kate is Singapore's representative lingerie e-commerce site. We have seen similar lingerie vertical e-commerce sites in Vietnam, India, Indonesia, and China, so it's about time one appeared in Singapore!
Perk was founded in February 2011, selling lingerie imported from U.S and U.K. Ladies might be familiar with the various brands on offer: Eberjey, Mimi Holliday, Samantha Chang, Addiction Lingerie, etc. Perk's selection is carefully curated by the founder, Kate Low.
She believes that the lingerie selection in Singapore has become stale, which is why she decided to look overseas to offer a wider variety to her customers. Today, Low believes that Perk has a selection of lingerie which appeals to a niche group of both ladies and men alike, who are looking for a fuss-free way to shop for good lingerie for themselves or their partners.
Low says that her merchandising strategy focuses on bralettes, which offer a lot of comfort to ladies, especially in the hot and humid Singapore weather. She also sells – ahem – moisture absorbing and also leak absorbent panties which are both made of patented fabrics. While she's only importing goods from overseas for now, Low aspires to design her own label one day.
Currently, Low is the only person running the show at Perk – from design to merchandising to the site itself. She regularly talks to her customers to find out what they want and need, often buying and bringing in products her customers request. And like every entrepreneur, she also has her own set of mentors whom she relies on for business advice. Perk has no outside investment as she is looking to grow the site organically.
I'm quite convinced that a lingerie e-commerce site could work well in Singapore. While it is harder to scale working on this alone, Low says that the advantage is in her dedicated customer service which allows every customer to feel valued. We wish her all the best.