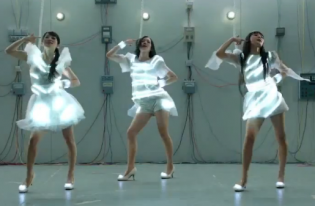 There are many approaches to making your content go viral on the web. Japanese idol group Perfume probably doesn't need much help in that department, as any video they put on the web is going to get attention. Nonetheless, the group recently took a very different approach to engaging its fans with its 'Spring of Life' video.
The short one-minute dance clip was released along with a motion-capture data set on the social coding site github which anyone can use to recreate the elaborate dance routine. Here's Perfume's video, in which the trio assume the role of cyborg dancers lit up like very leggy Christmas trees.
The video was uploaded just a few days ago [1] as a part of the band's new global website. Since then there have been some pretty crazy fan videos uploaded to both YouTube and NicoNico Video, all using Perfume's motion capture data to animate different characters with the very same dance moves. My favorite is this very weird Pikachu clip below. I kinda wish they had added some pants though.
In addition to that one, there have predictably been a few of Hatsune Miku videos (see here, here, and here), a Minecraft-themed interpretation, and a few bald centaurs.
Yes, bald centaurs.
From a marketing point of view, this is a pretty novel approach to engaging your audience online. This is not asking fans for a simple retweet or a Facebook 'like,' but rather it's giving them the tools to build and create something on top of the original work. It's an invitation to create strange new mashups that could potentially stand on Perfume's shoulders and go viral on their own.
If you'd like to follow along with the different projects fans are producing, keep an eye on the twitter hashtag #prfm_global_site. And if any of you create your own dance video with the data, be sure to let us know in the comments.