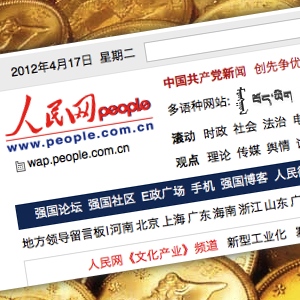 People's Daily Online, the news website closely tied to China's governing Communist party, has just issued a statement saying that it intends to raise as much as 1.55 billion RMB ($238 million) from its forthcoming Shanghai IPO. That's three times more than planned previously. Subscriptions for the stock open this afternoon and continue throughout tomorrow – but there's no date set for when it actually will hit Shanghai tickers.
It has set a range of 20 to 22.5 RMB per share, meaning that it could raise 1.38 to 1.55 billion RMB. 69.1 million People's Daily Online shares will be issued, and the lead underwriter is CITIC Securities (HKG:6030; SHA:600030).
The state-controlled website, at people.com.cn, generates most of its revenue from advertising, wireless services, and content syndication. It also has versions in English, Korean, Tibetan, Arabic, and numerous other languages, and has a subsidiary and office in the US. The company had previously declared that it would use the finances to upgrade and bolster its wireless services, tech platform, and editorial team. But that was said when it planned to raise just 527 million. Now that that figure has tripled, it's not clear how that might change its intentions.
The People's Daily Online faces significant challenges from younger and fresher news sources, such as those from major web portals like Sina (NASDAQ:SINA), Sohu (NASDAQ:SOHU), and Netease (NASDAQ:NTES).
Last year, People's Daily Online – a subsidiary of the People's Daily newspaper – saw its profits jump 74 percent year-on-year to 138 million RMB, while its sales revenue leaped 50 percent to 497 million RMB.
[Source: Techweb – article in Chinese]