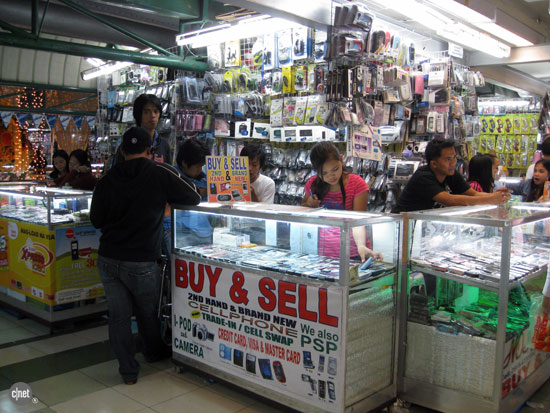 Smartphone penetration in the Phillipines is not yet high, but it's already slowly growing. We've previously noted how homegrown smartphones can be a factor to the growth of smartphone adoption in the country. But apart from buying homegrown smartphones, Philippine consumers find means to own imported smartphones at a relatively low price.
How? Through gray markets, which are now spread across a wide range of places. A recent report shows that Philippines is one of the top gray area markets in the world. Research firm IHS states that gray market handsets include counterfeit phones.
China-like Philippines
Indeed, in the Philippines, consumers can find tons of counterfeit phones, usually imitating Apple and Samsung hardware and interfaces. A while back, CNET reported how fake iPhones in the Philippines sold at only $75. A separate news article also stated that fake Samsung Galaxy S3s are sold at Php 9,000 ($206).
We have a number of reports of fake phones being manufactured in China. These phones are actually made available in the Philippines, as Philippine-based Chinese merchants import and sell these phones to locals. Before the emergence of cheap smartphones in the Philippines, fake brand-name phones were an appealing option for a number of consumers in lieu of the more expensive genuine models.
Where are the gray markets?
Three major bazaar-like malls are present in the capital: Divisoria, Greenhills and Baclaran. These shopping centers, however, barely resemble cosmopolitan malls. Rows of stalls, each displaying a number of devices, stand at a close quarters to one another. Most people, whether locals or foreigners, will always associate these places with cheap and counterfeit items – they're sold out in the open, without any attempt at discretion. Definitely, there are more stores like this hidden within Metro Manila and some other urban areas.
In addition to counterfeit items, genuine phone brands are also sold in these stores at a relatively low price. How? Merchants import these new devices to the Philippines from markets like Hong Kong, Singapore and Bangkok, where these devices are sold at a lower price compared to the retail stores in the Philippines. Add in the fact that the merchants get the devices in bulk, which means sellers get them at even lower prices.
In certain cases, sellers make these devices available to consumers even before they officially launch in the Philippines. For example, before the iPhone 5 was rolled out in the Philippines, it was already available in the country's gray markets. This also happened for the iPad mini and other devices. This will be followed by a price drop from these sellers when the device officially launches in the Philippines. So consumers must choose: wait for official stores to stock the phone, or get your gadget on the gray market (probably earlier than the official country launch).
Brand new or not?
In recent years, as e-commerce continuously grew in the country, online marketplaces tailored for smartphones also sprouted. A couple of websites gaining traction in the Philippines are KimStore and WidgetCity.
In addition to buying smartphones at a relatively low price, the consumers become merchants or traders themselves. They trade their used smartphones for new or better-quality used smartphones. This is so they can spend less cash than required for a brand new device. Apart from retail stores that offer this service, While this practice is not really considered illegal, this is not happening in mainstream shops. The trades are typically offered at those gray markets (the places we mentioned above).
Online selling platforms like Tipidcp and Sulit are also famous websites where consumers can post their advertisements to sell their used devices. People who do the online advertisements, meet up with their interested buyer or trader and fulfill their transaction. Some even opt to do the transaction virtually, where the interested buyer pays through the bank and the seller then sends the smartphone via courier. While people have been rather complacent about online transactions, scams still happen. For instance, the buyer sends in the money through the bank but won't receive the "purchased" item.
Nonetheless, people prefer the cheaper option. Philippine telco PLDT, through its subsidiaries Smart Communications and Sun Cellular account for 68 percent of the total prepaid market in the Philippines. It only shows that a number of Philippine mobile users are not purchasing smartphones through postpaid plans with lock-in periods.
With this huge prepaid market, it is likely that a good number of consumers will look into buying smartphones at a lower price, or selling their used smartphones in exchange for a new brand or model. With these trends growing even stronger, the Philippines' lanscape looks more and more similar to China's gray market.
(Photo: CNet)
(Editing by Paul Bischoff , Josh Horwitz and Steven Millward)