Global online payments giant PayPal has its eye on Asia's small businesses with the launch of a new mobile e-store service called Mo.bi.pay. The name is short for 'mobile built-in payments'.
PayPal's parent company eBay (NASDAQ:EBAY) explains in a blog post (hat-tip to Digital Journal for spotting it) that Mo.bi.pay [1] is a plug-in for mobile websites that makes online shopping pages and shopping carts look a lot better, much more mobile friendly, and easier to customize. Paypal gives this contrast as an example of the same shop after using Mo.bi.pay: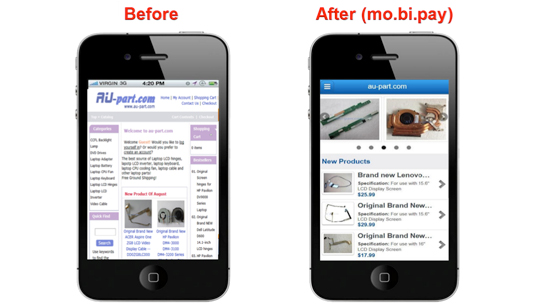 In addition, PayPal says that Mo.bi.pay is easier and safer – for both customers and e-commerce merchants – than proprietary mobile shopping plug-ins, which are often ugly, unwieldy, and lead to a lot of shoppers abandoning their purchase and going to a more well-known shopping site instead. Paypal claims that a site that's well optimized for mobile will see double the rate of mobile commerce growth than a site that's hard to navigate on a phone.
(READ: 10 startups that can beat PayPal in Southeast Asia)
The Digital Journal team points out that Mo.bi.pay was developed by Vertical Solutions, a development firm in Singapore.
The new Mo.bi.pay costs nothing extra for online merchants that already support payment via Paypal.
(Editing by Paul Bischoff)
---
Someone else owns the MobiPay name, so we'll have to stick with PayPal's stupid spelling.  ↩