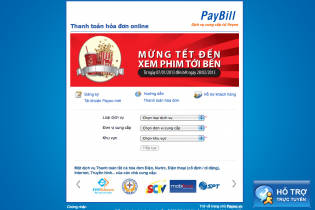 Although online payment still has a lot of hurdles to pass in Vietnam, this hasn't stopped local companies from releasing products like Paybill. The bill payment service released new services this month allowing homeowners to pay bills online to a host of utility providers.
With Paybill, people can pay for their electricity, water, telephone, internet, and cable bills through most of the leading utility providers like VNPT, SCTV, SPT, Vinaphone, and more. The current services are cumbersome and time consuming. Most Vietnamese people pay their bills by waiting for utility collectors to come door to door to collect monthly cash payments.
The service is built on top of Payoo.com.vn, a Vietnamese answer to Paypal. Paybill is an attempt from Payoo to push its service into the hands of consumers who still predominantly pay by cash. Established around 2008, Payoo still has not gained broad traction in Vietnam, but this new Paybill service gives consumers a more practical reason to use it.
Online payment solutions in Vietnam have been slow to catch on for a number of reasons. Merchants and consumers don't see a practical benefit over cash. If it is easier for consumers to pay their bills in this way, instead of going to the bank to pay every month, then it might gain some adoption.
Many in the e-commerce and technology industries argue that online payment is one of Vietnam's biggest barriers to offering online web services. This just might be a step in the direction towards solving that.