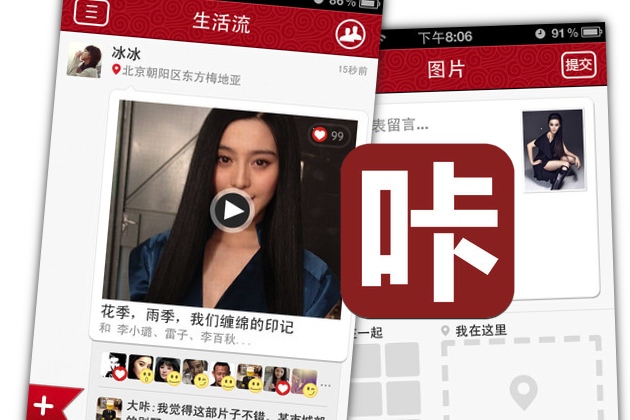 The American social network Path has got itself another Chinese clone. This new imposter is called Daka, which has made a pixel-perfect copy of the Path app in its own app for iPhone and Android.
Daka differentiates itself in two somewhat surprising ways: it focuses on a number of celebrities who have been drafted in to join Daka; and it's made by LeTV, a fairly big Chinese video-streaming site, not by a random startup.
As for the celebrities, Daka has a number of movie and TV stars using the Path clone, such as Fan Bingbing (pictured above). It all seems to be tied to LeTV's licensed TV and film lineup, which is streamed from the movie.letv.com and tv.letv.com sections of its site. Almost certainly the stars involved are being paid for the trouble of their – or their PA's – posting to the service.
And so, Daka users can interact with these stars – in a manner similar to the many celebrities and sports stars on microblogs such as Sina Weibo – by leaving comments or emoticons. The same goes for regular users. Note that the emoticons are the exact same ones used in Path.
The last time we saw a local Path clone was back in October of last year, when the Pengyou app copied the entire Path homepage – though its app was refreshingly different. This time, with LeTV's Daka, the website looks distinct, but the app is a conspicuous imitation.
Given that Daka is trying to take an interesting angle on a social network in China – sort of combining Weibo with social video sharing – it's a pity it marred the whole experience by not coming up with its own app design. Or perhaps local users won't care or notice. The Daka app syncs to Sina Weibo only for the moment, but that might expand as it grows beyond version 1.0.
Get the Daka apps for iOS and Android from the LeTV minisite.