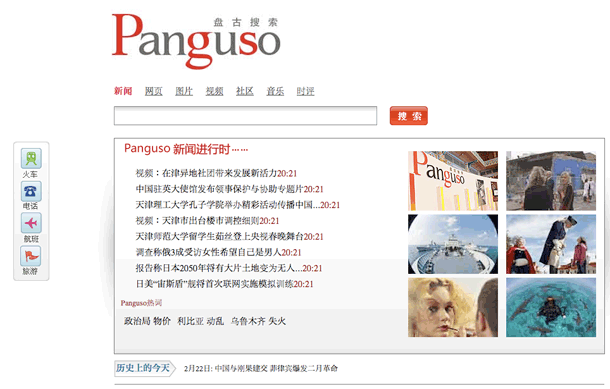 After 5 months, the new Chinese search engine has finally arrived. Panguso, the latest search engine in China, is a joint effort between Xinhua, a leading news agency in China and China Mobile, China's telecom behemoth. The search engine is designed to provide accurate search results for users. Panguso will also be available on cell phones where users can send search results from computers to their phones via SMS in the near future, said Xinhua.
"The operation of Panguso is an important move by Xinhua and China Mobile to extend our cooperation in cyberspace," said Li Congjun, president of Xinhua News Agency, at the opening ceremony.
"We would like to fully exploit the advantage of Xinhua as an official agency having a large amount of news and information, and that of China Mobile in terms of technology, advanced operation principles and strong infrastructure," Li said.
The new search engine in China has surely raised a lot of eyebrows. The market is highly saturated: Baidu owns 72 percent of China's search market share, Google China holds 26 percent and the rest are shared among Sogou, Soso and other minor search engines. Despite the competition, Wang Jianzhou, Chairman of China Mobile remains confident that the search market still has room for one more search engine.
"Although the online search market is highly competitive and several domestic and foreign players have taken their share, the market still has huge potential," said Wang at the same ceremony.
The collaboration makes sense. The new search engine serves as a transitional phase for Xinhua to transform itself from a traditional media to a multimedia company. For China Mobile, Panguso will attract more users to access the Internet through their cell phones. However, it remains to be seen if Panguso can beat Baidu in this search war. One possible key advantage is that Panguso seems to have the backing of the Chinese government.
Qian Xiaoqian, vice director of State Council Information Office, said at the ceremony that Panguso should prioritize its social responsibility as its two investors have always done.
"It should provide quality and healthy products for Chinese netizens and work to limit the spread of illegal information such as pornography and violence," he said.