Indonesia's biggest telco Telkomsel launched a program called "Digital Creative Indonesia" yesterday to help local developers market their products. And during that same event, the telco also announced the start of a competition related to its social responsibility project in Indonesia.
The project is a blog aiming to promote nationalism called Paling Indonesia 1. The competition wants to promote nationalism through application, video, and writing contests. But I personally find the story behind Telkomsel's acquisition of Paling Indonesia more interesting.
Paling Indonesia was originally created by digital marketing company MarketBiz Media 2 two years ago. It started off with just Facebook and Twitter accounts that discussed nationalism online. But then the team created the website to let its users contribute more.
Crowdsourced content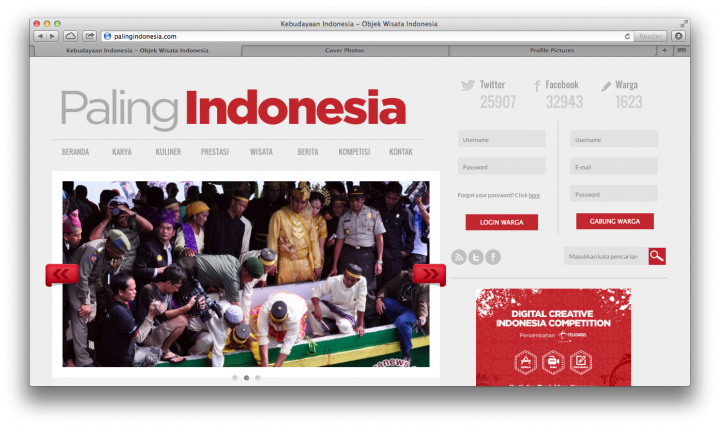 Luckily, Telkomsel stumbled on the site because it uses a name that the company now uses as its tagline. Seeing that they both share the same vision and mission to promote nationalism in the country, Telkomsel cooperated with MarketBiz Media to operate and promote the site together.
Seeing that the partnership worked quite well, the telco then bought the site from MarketBiz Media in early 2012. Though the site is now owned by Telkomsel, the seven-man MarketBiz Media team is still operating it.
Currently, the site gets 80,000 to 100,000 visits every month. Most of the site's articles are produced by its 1,600 users. The editors filter the crowdsourced articles and publish three to five of them every day, while the admin writes 15 articles a month.
Paling Indonesia hopes to help propose some cultural heritage listings to UNESCO for the sake of the country. The proposal is a difficult and tedious job, the Telkomsel team says, but someone has to do it. Right now the team is asking users' feedback on which cultural heritage aspects Paling Indonesia should propose to UNESCO. Paling Indonesia representative Reagen says this is one of the tangible ways Paling Indonesia wishes to contribute to society.
(Editing by Steven Millward)
---
Paling Indonesia roughly means "the most Indonesia." The company refers to being the most locally owned telco in the country, albeit having 35 percent of its share owned by Singapore's SingTel.

MarketBiz Media is also the company behind Twitter account @InfoJakarta which now has over 500,000 followers.