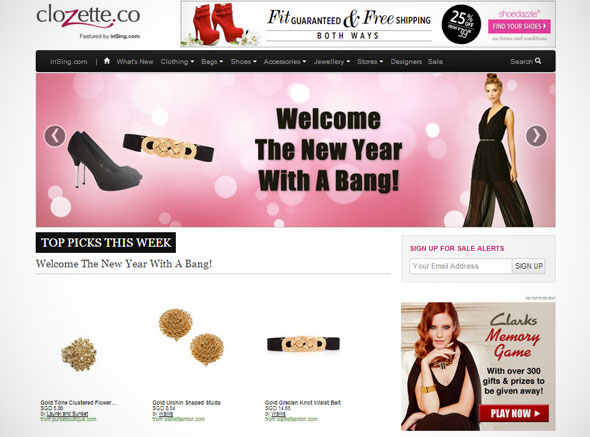 For a social network about fashion, Clozette isn't exactly a looker, especially when compared to the sprightlier and hipper #OOTDX, an upstart that appears to be drawing the Instagrammer crowd.
But while my first impression may be less than positive, Clozette actually turns out to be more interesting than it lets on.
It certainly has enough cache to seal a partnership with SingTel's lifestyle portal inSing.com, an arrangement that has given Clozette front page placement — on the portal's dropdown menu. Clicking on that link will bring you to insing.clozette.com, an e-commerce site that sells goods from Clozette's partners.
While I'm not sure how many percent of inSing's purported 2 million monthly active users will actually land on Clozette, it's a positive start. The partnership between these Singapore companies appears to be the right one too: Clozette, after all, has ambitions to be a one-stop shop for women's fashion and beauty needs.
Sure, you might have heard it all before. It would seem that every online fashion and beauty retailer, your Zaloras, Luxolas, and Asoses, wants to be that first-stop for fashionable women.
But here's the difference between Clozette and the rest: It isn't a traditional e-commerce site at all. In fact, it fulfills an entirely different role in the online fashion ecosystem, that of discovery.
You see, Clozette is really trying to become an online public closet for women, a place where they can show off their large collection of clothes, shoes, and accessories and discover collections by other women.
That's the first part of the equation. The other component of their business model is their fashion directory, split into a 'Bazaar' and 'Shoppe'. As the names suggest, the Marketplace contains hundreds of blogshops from Singapore, Malaysia, Philippines, and Indonesia, while the Shoppe displays goods from larger online stores like Bebe and yes, Rocket Internet's Zalora.
Altogether, Clozette claims to direct women to over 3,500 international brands and 180,000 female fashion selections.
Combining all components, the platform becomes a means for women to more easily discover and purchase fashion items, while at the same time giving merchants an online marketing channel.
If a comparison must be made, we can say that Clozette is attempting to become a Pinterest for female fashion. That analogy, while apt, doesn't quite capture it — I would guess that Clozette is ahead of Pinterest in terms of having a revenue model (site traffic is another story).
While the visual pinboard has been coy about its future revenue model, it could eventually end up looking like what Clozette is probably doing: Drive sales to businesses, and earn from a combination of advertising, referral, and marketing fees.
In comparing both sites, a huge question remains: How much traffic and sales has Clozette been able to drive to its merchant partners? I tried asking the startup for some figures, but I've yet to receive a response (I'll update this article when I do).
So far, the only sliver of information we have came from December 2011, which is more than a year ago: It had 85,000 monthly unique visitors then. But that doesn't say anything about conversion rates and the revenue it has generated so far.
Lack of information notwithstanding, the startup has done well enough to attract USD 1.9M in Series A funding from Walden International and NRF in May 2012, which adds on to a USD 1.19M seed round, impressive for a Singapore startup. This indicates that Clozette has product-market fit as well as a core group of loyal users, and a quick look at interactions on the site confirms this.
Coming back to Clozette's partnership with inSing.com, it's actually the latest in a series of similar arrangements that Clozette has signed up to in the region.
In October last year, it hooked up with Indonesia's Fashion Daily Network and its 47,000 members to launch a sister site. In 2011, it cozied up to Glam Media, a mega lifestyle online ecosystem, to launch GlamAsia.com, a fashion portal for Southeast Asia. That venture, however, does not appear to be generating much returns, as the site seems to be receiving little love. On the other hand, its Glam Clozette Japan project appears to be doing much better.
We can probably expect more of such partnerships in 2013 as it attempts to scale rapidly. Clozette calls is approach a "multi-channel ecommerce strategy". Given its low margins compared to other ecommerce businesses that hold actual inventory, getting tons of traffic is the only way to go.
It's with this strategy that it departs dramatically from Pinterest. While Pinterest can rely on a relatively homogeneous US market to grow, Clozette has to find ways to overcome the fragmented markets in Southeast Asia. A multi-channel strategy appears to be the best way forward.
Beyond seeking distribution through its partners, Clozette has hinted at how it plans to improve its product this year.
In the pipeline are new "community and social engagement features" that are either aimed at giving merchants new tools to engage Clozetters or giving Clozetters themselves new ways to interact with one another.
The startup also wants to enter the skincare and beauty vertical, although it hasn't indicated if it's working on an entirely new product or an extension of its existing social commerce platform.
For Asia's fashion and beauty startups, 2012 has been a year of proving and attaining market validation. It's why Reebonz was able to secure USD 17M in funding from Intel Capital, and why beauty box companies are sprouting up all over Asia, attaining thousands of subscribers and millions in annual revenue.
2013 will be a crucial year for these companies. They will need to demonstrate to investors that they're not a flash in the pan by generating substantial growth to either attract more funding or find an exit.
Rocket Internet will loom large this year with their massive warchest. For beauty box companies, Glossybox will be a formidable rival with their advantage in economies of scale. Meanwhile, e-commerce department stores and online redistributors will be challenged by Zalora.
On the other hand, there aren't any dominant players in Asia's fashion and beauty space, so Rocket Internet might be doing everyone a favor by expanding the market.
As for Clozette, it has much to benefit from Rocket Internet's rise, since they're complementary in many ways. Who knows, it might even become an acquisition target by the Samwer Brothers.