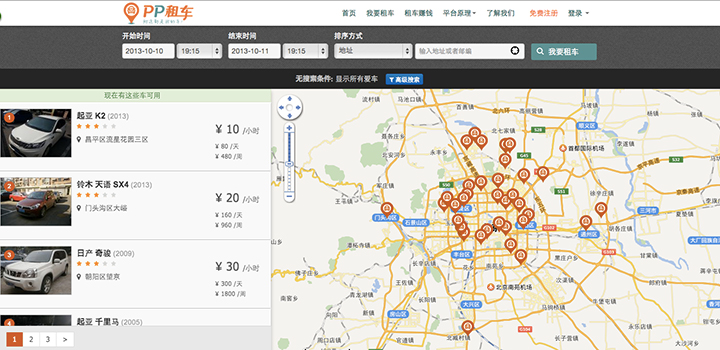 The online car rental space in Beijing just got a little bit more heated as Singapore-based startup iCarsClub, which operates a peer-to-peer car rental service, launches in China's capital city.
Unlike mainstay Yongche, which owns a fleet of vehicles, iCarsClub relies on its users — people like you and I — to supply the cars. This makes it more akin to Wodache, a carpooling service in Beijing, since both are part of a sharing economy that maximizes the utilization of existing resources.
ICarsClub's Chinese website is called PPZuche, which literally means 'peer-to-peer car rental'. An expansion into the world's most populous nation has been a mere matter of course — many of the founders and employees hail from China.
While the startup is unable to reveal total transaction figures, Clifford Teo, country manager for iCarsClub in Singapore, says that it currently has a fleet of 200 over ready-to-rent cars in Singapore — which was where they were in July — and another thousand on the waiting list. It now has 50 vehicles in Beijing, and could even add a Tesla within a month.
With plenty of car rental companies already in Beijing, PPZuche will be differentiated by saving users the hassle of paperwork. Every vehicle is fitted with an iCarsBox, a hardware device which provides keyless entry and GPS tracking. Everything is digitized, from renting a car to returning it. Payment is made as seamless as possible, since the website stores users' credit card details and charges to it automatically.
The net efficiency and cost savings allow iCarClub to stay cost-competitive with other players in both Singapore and China.
A trust issue remains, however. Clifford acknowledges that educating consumers will be the biggest challenge for the company in China, in a rather similar scenario when the company first launched in Singapore. Car owners would be naturally worried that their vehicle might get damaged or stolen.
To address these concerns, the company is working on an insurance policy for car owners. It also hopes that by holding on to user data, it would encourage drivers to be responsible when handling the vehicles. A screening process is also in place: only drivers with two years experience, no more than three demerit points, and no car accidents in the past three years will be approved.
The company has its eyes set on expanding to other first-tier cities in China like Shanghai, Guangzhou, and Shenzhen by next year. Down the line, it could pursue partnerships with car rental companies to access their fleet of vehicles, similar to what fellow Singapore-based startup Drive.sg is doing.
It's also busy evangelizing the sharing economy cause as a founding member of Sharing Economy Association Singapore, a new group that includes other startups and organizations like Rent Tycoons and BlockPooling.
(Editing by Josh Horwitz and Vanessa Tan)