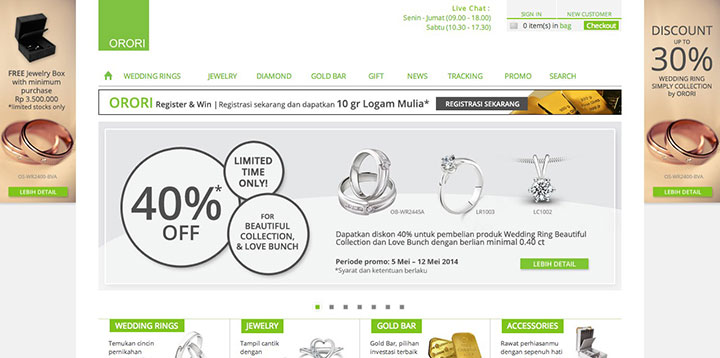 If you're still wondering whether Indonesians want to buy expensive jewelry on the internet, George Budi Sumantri might have an answer for you. Sumantri has been running offline jewelry businesses since 2003, and is now running a jewelry ecommerce store in Indonesia called Orori. He's made some pretty bold moves in between, like completely shutting down his offline business to fully go online. But the risk brought rewards, as he raked in US$1.3 million in revenue last year. Sumantri believes that the company's best years are yet to come.
Sumantri grew up in a family which has run jewelry businesses throughout Indonesia since the 1950s. While entering the industry upon adulthood was a natural step for his relatives, Sumantri was the only one that believed in the power of the internet to bolster the family business.
Shutting down the traditional business mindset
Sumantri is the kind of guy who's not afraid to make bold decisions from time to time to in an effort to disrupt the market. One such decision was registering as the main sponsor for the Jakarta Wedding Expo – the biggest wedding expo in Indonesia's capital city. As the only jeweler permitted to enter the event's premises, few expected him to fit in well, but risk paid off and the publicity drove huge sales – he broke even on his investment and planted the business in consumers' minds.
More recently, Sumantri completely shut down his offline business to go fully online in 2012. At that time, 80 percent of Orori's revenue came from its offline stores, so you can imagine how closing those channels presented a huge gamble.
But thanks to the shutdown, Orori no longer needed shell out huge amounts of capital on accumulating in-house inventory. By streamlining his relationships with his suppliers, he could center his operations entirely around Orori's website and cut out the inefficiencies that accompany running multiple brick-and-mortar storefronts. That year the team's yearly revenue grew fourfold.
Thanks to Sumantri's six-decade old family business, he has connections to many players in the industry including manufacturers, designers, and refiners. In addition, since the internet is basically one infinitely-large showroom for businesses, Orori could now showcase more jewelry products inside its estore than it could inside a shop. Focusing on online sales also allowed the team to extend its services to customers outside Jakarta too, where most of its original customer base.
Currently Orori sells various jewelry products including wedding rings and pendants. You can also buy diamonds, gold bars, and gift packages on the site.
Do people really buy jewelry online?

People buy clothes and other products online, but do they really purchase expensive jewelry online? There are a lot of factors to consider when doing such business in Indonesia, one of which is logistics. How is Orori handling it?
Orori is working with multiple payment partners in the country to facilitate bank transfers. The startup also offers zero percent installment payments using certain credit cards. On average, Indonesians spend about IDR 23 million (US$2,000) on Orori. Sumantri reports that 99 percent of all deliveries have been completed without issue.
The team recorded larger revenues in 2012 (US$2.1 million) compared to 2013 (US$1.3 million). So what happened? Sumantri says that the dip occurred because they eliminated their "same day service" that year. Credit card fraud is rampant in Indonesia, and Orori's bank partners suggested the company spend at least one day completing verification procedures on payments. The team plans to re-launch its "same day service" again next year, but only for payments made using bank transfers.
Raising funds
Sumantri is currently looking to raise US$1 million in funding so he can reach the next step faster: developing Orori into an online jewelry platform. Currently a business-to-consumer company, Sumantri wants to help other offline jewelry stores go online via Orori. There are also other plans in the long run to offer more services like jewelry refining and pawning. Of course, expansion to other Southeast Asian countries and India remains on the horizon.
Orori also anticipates the arrival of a free trade agreement between ASEAN and Hong Kong next year. Thanks to that, the jewelry import tax will be reduced from 125 percent to zero percent. During this time Orori – who usually pools its jewelry products in Hong Kong – can begin implementing more aggressive marketing campaigns domestically.