People looking for a top notch Android phone might be thinking of global brands like Samsung, LG, and HTC, but China's Oppo might be able to change a few minds with its new flagship phone, the Find 7. It was previously launched in China and the Philippines, and it will be available nationwide in Indonesia by the end April. The company also revealed some progress regarding its venture in the archipelago country.
This month marks Oppo Indonesia's first year anniversary. The country overtook Thailand to become Oppo's biggest market outside its home country, China.
Oppo now has about 3,000 employees in Indonesia, with most of them as salespeople and promoters. The company opened service centers and official stores in 30 cities in Indonesia so far.
(See: 13 new Asian smartphone makers hoping to crush Samsung and Apple)
Battling at the summit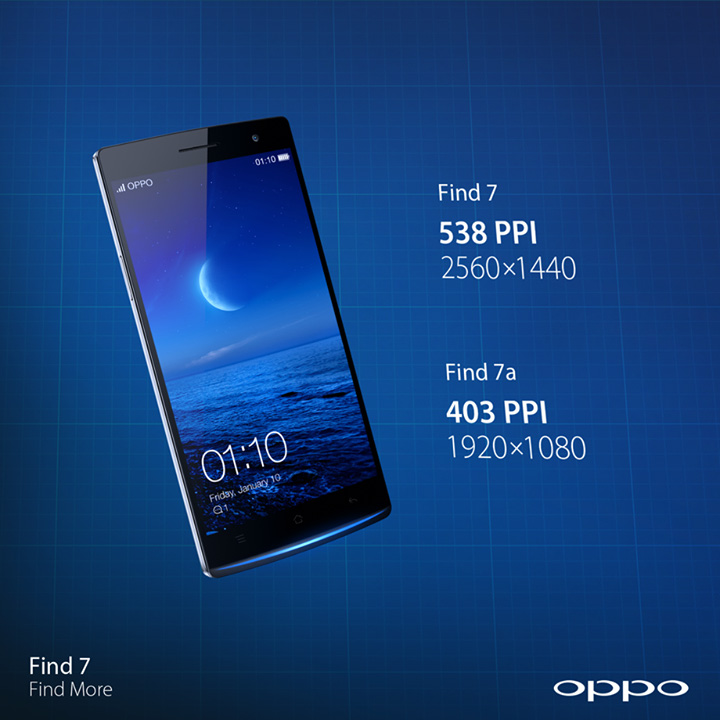 The phone goes head on with the Samsung Galaxy S5, which was just launched in Indonesia last week. Specification wise, many would argue the Oppo Find 7 blows the Galaxy S5 out of the water.
Both phones are equipped with an Adreno 330 GPUs, quad-core Snapdragon 801 2.5GHz processors, and Corning Gorilla Glass 3. Oppo Find 7's camera is comparable to the Galaxy S5's. The Find 7 has a 13MP back and 5MP front-facing camera, while the Galaxy S5 has a 16MP front and 2MP front-facing lens. Other than that, the Find 7 looks better on paper.
The 5.5-inch Find 7 has a 1440p display, 3GB RAM, and 3,000mAh battery. The 5.1-inch Galaxy S5 uses a 1080p display, 2GB RAM, and 2,800mAH battery. The Find 7 also includes fast charging. Held in hand, the Find 7 feels a bit bulkier and heavier than Galaxy S5.
Oppo is also launching the more affordable brother of the Find 7, dubbed the Find 7a. The 7a sports a 1080p display, quad-core SnapDragon 800 2.3GHz processor, 2GB RAM, and 2,800mAH battery.
Oppo will be battling with other handset brands like BlackBerry, Smartfren Andromax, Evercoss, and Mito to win the hearts of Indonesia gadget lovers.
The Find 7 costs IDR 7 million (US$613) while Find 7a is sold at IDR 6 million ($526). That is cheaper than Samsung Galaxy S5's price at IDR 8.5 million ($745).