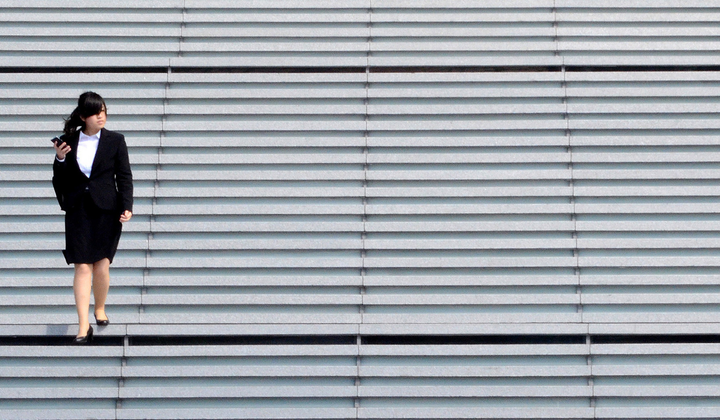 More bad news for working women in Japan: only one of the country's top firms employs a female executive, and she's a white American woman who resides in New York City.
Bloomberg looked specifically at corporate executives working for firms listed on the Nikkei, a stock index that is essentially the Dow Jones for the Tokyo Stock Exchange. The report found that Nicole Seligman, president of Sony Entertainment and Sony Corporation of America, was the only woman in a pool of 185 executives making at least JPY 100 million (US$980,000).
According to a recent study by Catalyst, a nonprofit organization that examines issues related to women in business, only seven percent of Japan's senior management roles were filled by women last year – dead last among the 24 countries surveyed. Think it might be an Asian trend? Think again. Each of the other Asian countries where data was collected, with the exception of India, had a higher percentage of women in senior management than the the US (20 percent) and UK (19 percent). In fact, China topped the list with 51 percent, followed by the Philippines (37 percent), Thailand (36 percent), and Singapore (27 percent) in third, fourth, and tenth place, respectively.
An even larger study – the World Economic Forum's Global Gender Gap Report 2013 – ranked Japan 105th out of 136 countries when it comes to women's equality.
See: Are you sexist and you don't know it? Why you should ask yourself that if you're in tech
The administration of Japanese Prime Minister Shinzo Abe has pledged to reverse this trend, with a lofty goal of increasing female participation in national "leadership roles" – members of parliament, heads of local government, and business execs – to 30 percent by 2020. It will be an uphill struggle for two competing reasons: Japanese women are being urged to have more children, as a shrinking and aging population threatens economic stability – but
70 percent
of women quit work for a decade or more in order to have children.
For now, it appears that Japanese women only have two choices when it comes to climbing the corporate ladder: don't procreate or move to another country. Or, perhaps, there's a third option: abandon the corporate life and found a startup.
(Source: Bloomberg)