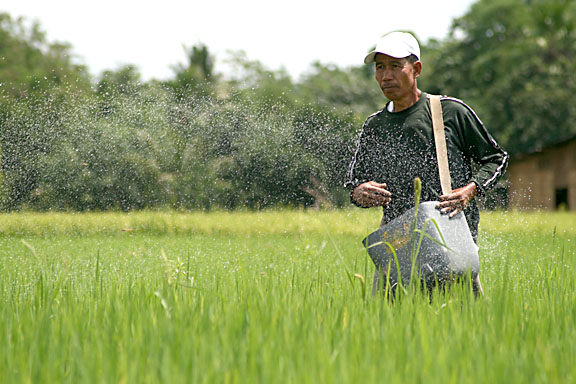 Thailand's embattled government, swamped by months of intense protests, recently came in for even more attacks due to it rice pledging scheme. The policy has been questioned since the beginning, with allegations of rampant corruption in the scheme to help farmers.
Some farmers claim that they've never received the promised money, and that has led the anti-government protest group to use the rice pledging policy to attack the government. While PM Yingluck Shinawatra claims that the scheme is a success, the government's opponents think otherwise. A lack of payments has led at least two farmers to commit suicide, which has brought together the people of Thailand to donate or raise money, or do whatever they can to help the nation's farmers.
There are a few online resources that could help out. This week, Dtac launched a new print of its prepaid card to promote the Farmer Info app and SMS service, which was launched last year. Farmers can dial *1677 to subscribe to the Farmer Info SMS service or download the app to get free agricultural-related information such as the selling price of products or guidance on how to deal with specific problems. This is similar to a rice management (บริหารข้าว) app made by Thai government agency Nectec.
Dtac will also partner with Rakbankerd to bring e-commerce to the agricultural industry. This way, farmers could sell their products directly to consumers. In addition, Dtac will work with other partners such as Paysbuy to offer mobile financial services to farmers.
Of course, right now what the farmers really need is money. It's quite a smart – if opportunistic – move of that telco to promote the farmers' app on its prepaid card during this crisis. Although tech can't solve everything, it's at least positive that there are online resources that could help out farmers at a very difficult time.
(Image credit: Flickr user Keith Bacongco)
(Editing by Steven Millward)