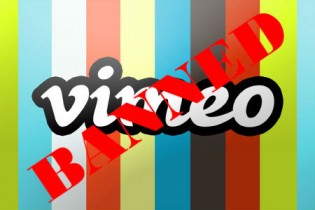 Video site Vimeo has been the hot topic of conversation in the past few days in Indonesia. The site was first blocked by the ICT ministry on Sunday, then unblocked, then blocked again today. Why the censorship in the first place? Because Vimeo allows "R-rated" content such as nudity, but nudity is deemed as pornographic in Indonesia. Indonesian authorities are keen to block online porn.
Picture sharing site Imgur and popular online forum Reddit are blocked in Indonesia at present. Both became inaccessible earlier this month.
Here's a recap of what has happened in the Vimeo fiasco in Indonesia so far:
On Sunday night, a number of Indonesians reported on Twitter (via DailySocial) that they weren't able to access Vimeo anymore. On that same night, the ICT ministry tweeted that they weren't blocking the video sharing site. That tweet then got deleted, with the ministry issuing a press release the next day regarding the block.
Not all ISPs in the country received the ministry's letter mandating Vimeo be blocked. It started with only Telkom Indonesia on Sunday, and then other web providers like XL Axiata, Indosat, and First Media followed suit in the proceeding days. Last night Detik cited ICT ministry's Muhammad Budi Setiawan as saying that they will unblock Vimeo due to the online outcry. Kompas reported that same night that a few ISPs started to unblock Vimeo. But then things get even more confusing.
(See: 5 ways to sneak through China's Great Firewall)
YouTube and Vimeo being forced to cover up
This morning, another ICT ministry representative, Ismail Cawidu, explained to Detik that they are still blocking Vimeo, and explained that the media got it wrong. The government wants Vimeo to block videos containing nude scenes for Indonesia. ICT minister Tifatul Sembiring claims that YouTube agreed to this policy, and hopes that Vimeo follows suit.
However, Indonesians can still access videos that contain nudity on YouTube at present – and can even browse through nude pictures on Twitter and Google. There a fear among some Indonesian netizens that if the government can block Vimeo because the site has nudity, then the same logic could apply to many other major sites as well.
This is the second time Vimeo's been blocked in Indonesia. One ISP, Telkomsel, blocked the site back in March last year. But Sembiring claimed he had no input on the earlier blockage.
A number of Indonesians use Vimeo to showcase their portfolios or business, or to find inspiration from other movie enthusiasts. With Vimeo now joining Imgur and Reddit on the blacklist, is this the start of Indonesia's version of China's Great Firewall?