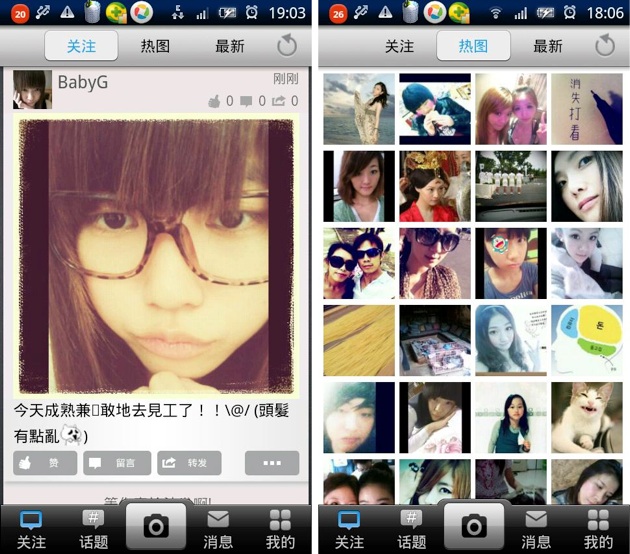 Todd Kurie isn't just an expert on digital marketing, he's good at explaining it too. The online marketing veteran, who has traversed five startups (including Singapore's RedMart.com) and corporations like eBay and American Express, gave five tips on how upstart companies should conduct their digital marketing efforts. Targeted at e-commerce outfits, Todd's presentation was given at the Echelon Singapore Satellite event.
A startup's main marketing challenge is to grow as fast as possible. The process of doing so can be broadly summarized as follows: learn as quickly and cheaply as possible about your customers, what they like or don't about your service, the most effective ways to reach them, and customer acquisition costs. Once these questions are answered, then grow as fast as it makes sense.
Tip#1: Observe your customer
Take a quick look at whatever information you can get from every user who registers — even names can reveal a lot of information about your customer. If your site has a search feature, scrutinize that too. Search terms can tell you a lot about what site visitors are looking for. The goal of this exercise is to spot patterns. Third-party analytics tools — some of them free — are useful for this purpose:
Tip#2: Listen to your customers
Customer support emails are not just for the support team – the management should also receive and read them. It's a great way to know what pain points your users are experiencing.
A survey is another great tool to hear from customers. And they will tell you a lot. At RedMart, Todd conducts regular surveys which typically sees a ten percent response rate (300 participants out of 3,000 people who were exposed, for example). The company also offers rewards for testing new features.
Tip #3: Use the right marketing channels
There's a big difference between marketing you can do and marketing you should do. Startups should initially focus on marketing channels that are:
low cost to test
easy to implement
trackable, and
scalable.
In summary: Aim for high results with low effort. RedMart started off with organic search and Google Adwords for their initial marketing burst. It's now at capacity on Google and has turned to Facebook as another key plank. Here's how the startup sees the various marketing channels: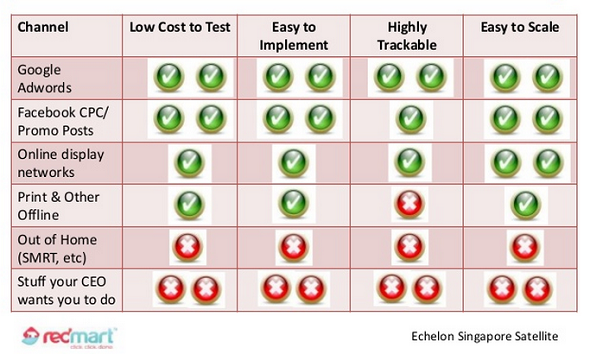 Tip #4: Start tracking lifetime customer value now
Draw a tension curve to determine how much your customer needs to spend to create a net positive. This is especially important if your revenue comes from ongoing user transactions and interactions.
Tip #5: Know what growth is "just right"
Grow too little, and your investors will be unhappy. But grow too much, and your service breaks down and you risk making users unhappy – this is a killer if your business is dependent on ongoing activity. Know what the 'just right' amount of growth is and aim for that.
Understand the degree to which you can dial up or down your marketing spend to hit an amount of advertising activity (visits, transactions, etc). Set minimum and maximum targets for your marketing spend to regulate revenue growth.
RedMart generates some baseline revenue from organic search results alone. The company will top up accordingly with EDMs, Adwords, Facebook CPC, and Facebook posts to finely tune the flow of visitors to the site.
Slides of the presentation:
Read more from our series Guide to starting an online business.