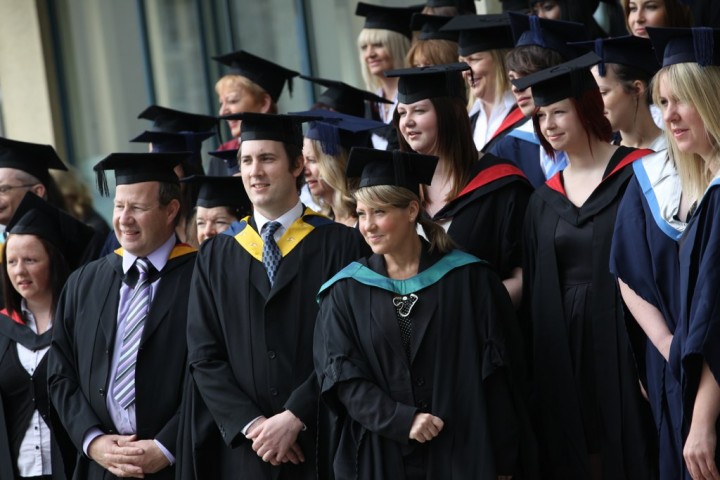 These days, it's not hard to find someone who proudly holds a college degree. Don't be fooled, though – these don't come cheap at all, and university tuition fees continue to rise year after year. In Malaysia, for example, certain private universities revealed that they raise their tuition fees by five to ten percent every year.
As a result, many households perceive higher education as a significant investment – and as with all investments, research is a must. The trouble, however, is that information on higher education is scattered all over the web, making it hard to draw comparisons between institutions.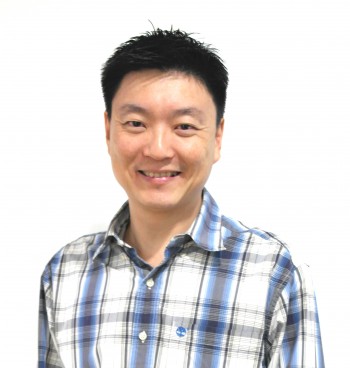 Edwin Tay, co-founder and CEO of Malaysia-based online higher education portal EasyUni, recalls that his niece was having a hard time choosing the college of her dreams back in 2008:
She wanted to find out more about these institutions, but there wasn't any one single platform that gathered all the relevant information. She ended up having to go for events and asking around to find out more – it was a very cumbersome process.
His co-founder's nephew faced the same issue too, and it was his initiative that sparked the idea of creating a comprehensive and accurate portal for prospective undergraduates to use.
A slow start
With that, the duo began working on EasyUni. At first, the company progressed rather slowly, largely because Tay was still working on his first startup – a digital agency named Netinfinium. The real work began in December 2010, when Tay sold his agency to a publicly listed company in Malaysia, and finally made the plunge to build the portal full-time.
The team eventually got their platform up and running with funds from the founders, as well as three grants from the government across a period of time – MYR150,000 (US$47,000) from the Multimedia Development Corporation (MDeC), as well as MYR150,000 (US$47,000) and MYR500,000 (US$155,000) respectively from Cradle.
Due to their day job obligations, the duo spent a large amount of time listening to prospective clients, but procrastinated when it came to taking follow-up action.
"In hindsight, we definitely should have moved faster to implement whatever we had at that point of time, rather than simply brainstorming and coming up with a ton of ideas," says Tay. "When we finally got going, we tried to implement everything – that was a bad idea."
Another challenge they faced lay in trying to meet their aim of connecting global students with global institutions. Right from the start, Tay understood his team had to build a portal with a global audience in mind. At first, it was very difficult to reach the rest of the world, as many local startups in Asia can attest to. The portal started off with 100 institutions spanning five countries, but their audience consisted mainly of Malaysians.
The take-up rate was painfully slow. "Nobody knew us then, and we didn't have enough money to do marketing," he says. "That forced us to innovate and do whatever marketing that we could do on the cheap." With the little money they had prior to the grants, they attended events such as education fairs, which according to Tay are really big in Malaysia.
"There are three main education fairs locally, each boasting an attendance of between 10,000 to 30,000 visitors," he explains. "So we put some money in to buy a tiny booth at these fairs, and rented eight laptops so that visitors could sit down and use our system right there and then."
The data that they entered was sent to a laser printer, and printed onto pre-made business cards with our logo and url on the back. So when they registered with us, we would give them each a box of beautiful namecards with all their details on them. The whole idea was that these students were likely going to move somewhere else when they go to college, so they could give these namecards to the friends and relatives that they were leaving behind, as well as the new friends that they were going to make.
The campaign was a huge success – the EasyUni booths were easily the most crowded booths in each of the fairs that they attended. "Some students even came back to ask for more namecards," laughs Tay. "They would even come on multiple days to get more, each time bringing more friends." Subsequently, word got around, and today EasyUni has traffic coming in from over 202 countries – an impressive feat. In addition, the portal's listings have also swelled to include 27 countries, making up about 2,000 universities and 70,000 courses.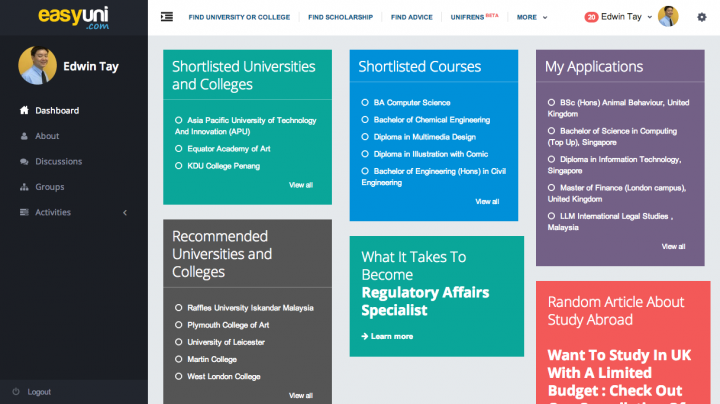 The team's efforts were also helped a lot by the grant money that came in not long after, as well as a substantial amount in series A funding by Teak Capital just last year. With the recent injection of funds, their traffic and average revenue per client have more than doubled, with sales and membership figures also increasing exponentially. "With each infusion of funding, we take it to the next level, and so now we're looking to raise our series B round of funding," he reveals.
Working faster, harder, leaner
EasyUni only had two serious competitors in the higher education space at that time. "We weren't the first around, both locally and internationally. There were a few publishers in Malaysia who also had a portal with listings, but they were pretty much focused on the local scene," he elaborates. "Despite being around for five to six years back then, we easily overtook them within a year. The international one, based in the UK, was and still is far more formidable – they have been around for 16 years now, and they do cover this region [Asia] as well."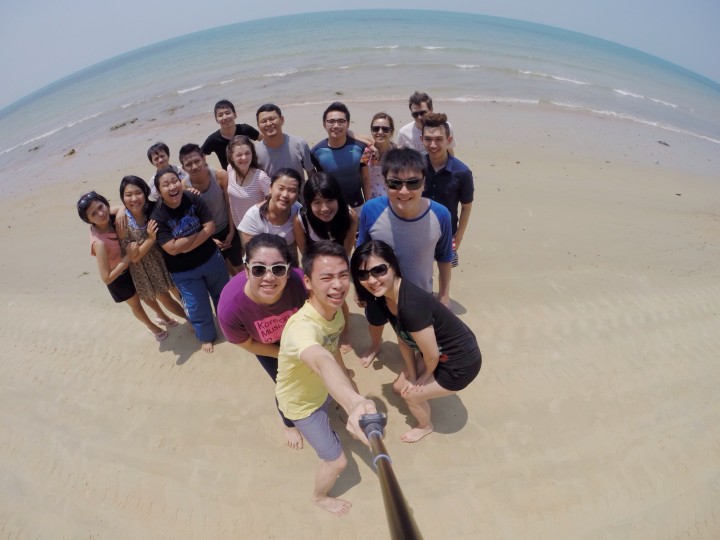 Tay believes that EasyUni has a strong advantage coming up against their competitors, which is that they are native internet specialists, and entrepreneurs to boot. "We are internet guys going into an online market, while the rest are largely publishing guys trying to find their way in," he explains. "It's far easier for us to get to know more about the education industry – by talking to our stakeholders – as opposed to publishers trying to navigate the online world."
Furthermore, as entrepreneurs, I think that we're just hungrier for success. We work faster, harder, and keep operations lean and mean – in part because we have no choice. We're also constantly innovating, almost on a daily basis. Our team is encouraged to see the portal as a constant work-in-progress – whatever we have is never good enough, it can always be better.
Tay also attributes their success so far to the fact that they listen closely to what their clients want and need. "Sometimes, they don't tell you what they want up front, but we've learnt how to read between the lines," he smiles.
Additionally, accuracy is of utmost importance to Tay when creating new listings on EasyUni. "If the information on our portal is inaccurate, not only is it misleading to students, but in some countries such as Australia, it is against the law," he explains. "The university is held accountable for this. So we make sure only to take information from their respective portals after verifying that the information is 100 percent correct."
The team has placed functions in the website that allow users to highlight incorrect information. Tay has even gone as far as to create a quality-control team that is in-charge of the accuracy of incoming information. "These guys regularly go in and out of the portal to ensure that everything is updated and correct as of that date. But most of the time, universities contact us themselves to point out errors," he says. "And they are more than happy to have us there to do the leg work for them."
A balancing act
Universities are fairly traditional when it comes to marketing, using the typical means of press and print media to get the word out. According to Tay, their top marketing tool is usually Google Adwords. However, most of them realize that Adwords can only bring them so far – they need to diversify to reach a wider audience. "That's where we come in," he says.
Running a portal is usually a balancing act in itself – on one hand, there are those that are trying to sell their products or services, while on the other there are the consumers and buyers. This was precisely what the team faced, and currently still struggles to maintain. However, Tay is clear that at the end of the day, students are still the main client.
"We try our best to balance between what our paying client – the universities – want, and what students want to consume. It's hard, because sometimes they're on opposite ends," he says.
See: This startup wants to make Singapore's rigid, expensive education system accessible and free to everyone
With this in mind, the team recently launched a new initiative that caters specifically to students. Called UniFrens, it is a social platform that brings college-searching, interest-sharing students together in a bid to help them make unbiased and community-driven decisions about their higher education options.

Prospective students are also able to connect with currently enrolled ones via this network to find out more about their good or bad experiences in any particular city, country, university, or specific course.
The platform works seamlessly with the EasyUni sign-up process – students are automatically assigned to various groups that match their interests, which they are prompted to note down during the registration process:
For instance, someone from Singapore who is going to study Business in Melbourne, Australia will then be assigned to all the relevant groups that could be "People from Singapore going to Australia" or "People from Singapore going to Melbourne to study business."
Tay is particularly excited about UniFrens, which he reveals has been in the works for a while:
We always knew that our users would love it, as they want more community driven information instead of promotional content from universities and study-abroad consultants. This feature will democratize the way information about specific courses, countries or institutions are presented, and this can only mean good things for our students and parents, as it helps them make more informed decisions.
This feature is currently in beta, and will be released in full force in a few months' time.
(Image credit: Flickr user Weston College)