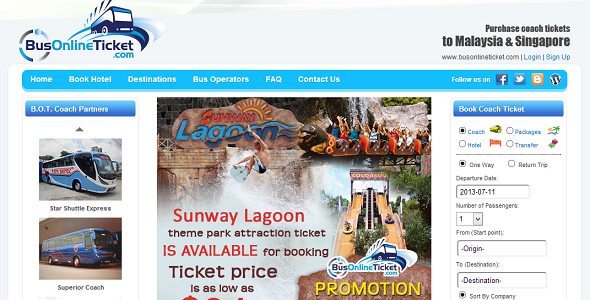 For five years, the founders of BusOnlineTicket.com toiled in relative obscurity while juggling full-time jobs, hoping that their website would turn into a leader in online bus ticketing. Facing down objections from family, they left their well-paid gigs one-by-one to work on the startup as it grew and revenues began to multiply.
Then a venture capitalist called. His interest in the company was piqued after redBus, an online ticketing startup in India, was acquired by Chinese internet giant Tencent and South Africa media giant Naspers for an estimated USD 135M.
That was the company's first brush with Singapore's burgeoning startup ecosystem.
Since then, the four Malaysian founders, Yee Hon Ve, Chong Kok Chuin, Winston Wong, and Bong Yong Chuen, have been busy getting up to speed, meeting investors and founders, and attending startup conferences like Echelon.
The company has a business model and metrics that many startups would die for.
It operates a consumer-facing website that sells bus tickets for Singapore-Malaysia travel and intra-Malaysia routes, targeting migrant workers, tourists, and even business users.
The website now moves tens of thousands of tickets a month in Singapore, or an average of SGD 350k (USD 277k) in monthly total ticket sales turnover. It extracts more than a dollar per transaction (or 5 percent of total price, whichever is higher). That's still a tiny drop compared to redBus' annual ticket sales of 10 million last year.
A couple of months ago, the startup ventured beyond the web portal, launching mobile apps for iPhone and Android and selling tickets through SingPost outlets and S.A.M machines throughout Singapore.
Equally compelling is BusOnlineTicket's hidden component: A SaaS solution for bus operators that enables ticketing, scheduling, and staff management — basically their entire operations. The startup already has 40 companies under their belt, each paying a monthly subscription fee.
While the company was able to break even by its second year and see profits in the third, the founders faced many brick walls when trying to make initial sales.
The soccer and supper buddies, who all met as engineering students from National University of Singapore, found the effort needed to start a business way more than they bargained for.
The problem was definitely ready to be solved: As students, they had to make the trip down to the bus operator to buy tickets back to Malaysia, and then travel back to campus again. The process was time-consuming and cumbersome.
What they were clueless about was execution.
"We were four engineers who didn't know how a good company is supposed to work and operate. We had no business sense, didn't know how much to charge, and had to learn negotiation skills from scratch," said Chong, who serves as the sales lead on the team.
Back then, the startup ecosystem was in its infancy, and angel investors, while they existed, did not discover the company. This meant they had to learn by trial and error and invest in the startup out of their own pockets.
"If we had funding earlier on, we would have saved ourselves at least two years," said Yee.
The lack of expertise, coupled with the absence of big-money investors, led them down a cautious, iterative path. With no industry experience, they began approaching bus operators to seek feedback and understand their needs, then used the insights to modify the product.
They were adopting lean startup principles without knowing it.
What the founders discovered was that bus operators were still reliant on pen and paper. Although the system was inefficient and prone to fraud since employees could misrepresent a bus' fill rate and pocket the cash, operators were resistant to change due to familiarity with the old ways.
To circumvent this inertia, the founders initially focused on Singapore bus operators, who were more tech savvy than Malaysian ones. They also targeted second-tier operators with the ambition to become industry leaders, since they're more likely to seek a technological edge over the competitors.
"The top players would ask: 'I'm so famous, why should I use you and pay you a commission?'" said Chong, "that's when we knew we had to change strategy."
The move worked. In fact, Chong claims that the first bus operator they engaged, once a second-tier company, had broken out into the top echelons thanks to their technology, which made internal practices more transparent and also increased revenue.
And once the first few customers were sought, things started to fall in place since a technological arms race would develop within the industry.
Today, BusOnlineTicket.com claims to be the market leader in Singapore and Malaysia. Its competitors, however, are not far behind. The main rival, Easibook, also says it is the largest in the two countries, and it was founded just a year earlier. Another company to watch out for is CatchThatBus, which Yee says was started just months ago.
Further up North in Vietnam is VeXeRe, a ten-person team that has begun displaying bus timings on their website. According to TechinAsia, while their online booking system is not available yet, the company has already begun building a SaaS system for bus operators and hopes to expand to trains in the near future. The startup too has several competitors breathing down its neck.
While regional expansion is still some time away, BusOnlineTicket is already eyeing Vietnam as a potential market. Philippines and Thailand are in their sights too. Yee estimates that the company will need to raise one to two million in USD in order to dominate their existing markets and expand aggressively abroad.
It seems that everyone is finally coming on board to ensure the company's success for the near-term: Not just customers and bus operators, but their families too.
"My wife loves the flexibility that running a business affords me. In fact, she often calls me to come home to do the laundry," said Yee.