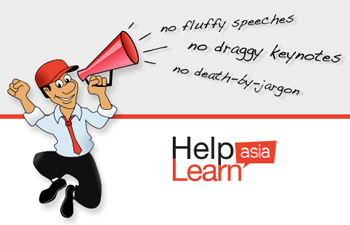 Regardless how great your product is, advertising has to be part of your success game plan. Need convincing about how advertising is essential? Read this post by Mikaal Abdulla of 8 securities.
Now that you're convinced, the next step is to ensure that your ad dollars are well spent and are producing the required return-on-investments. It's okay not knowing anything about digital marketing because most people are just like you: Confused.
If you're in the confused category and/or just want to learn from the experts, I recommend you, our dear readers, to attend HelpLearnAsia's seminar. I'm promoting this in a blog post because it's a much-needed seminar for entrepreneurs. And it's good that HelpLearnAsia steps in to fill the void.
I personally like the no-jargon and bullshit-free style it promises the audience. Hopefully it lives up to its claims. Besides, the founder, Adrianna Gascoigne seems to be a nice and credible person. (Coincidentally, she's speaking at Startup Asia Singapore next month).
If you're sold and want to join this seminar to learn more about digital marketing, then we have good news for you. We managed to negotiate a 50 percent discount code for all Tech in Asia readers. After applying the discount code (TechinAsiaPromo), each general admission ticket costs just S$125, which is quite a bargain. HelpLearnAsia's event is on March 13 and 14 at Genexis Theater, Fusionopolis, Singapore.
Here's how you can register:
Click this registration link
Insert promo code: TechinAsiaPromo
Tickets with 50% discount will appear. Register!