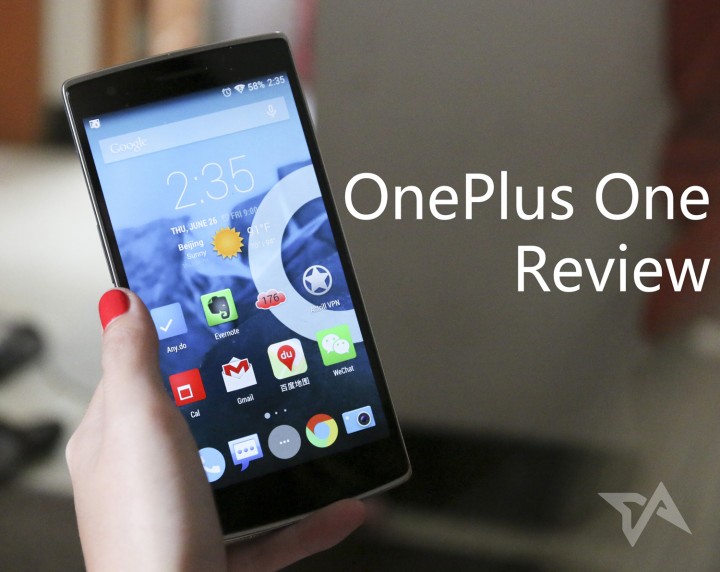 When the OnePlus One first debuted and I got my hands on an early demo version, I called the phone a Xiaomi killer.
I've never been much of an early adopter, but I decided to go out on a limb and buy one. So did my first impressions of the OnePlus One hold up? Yes.
The One is OnePlus' first ever smartphone and it's aimed squarely at the same demographic as the Xiaomi Mi3 in China and the Nexus 5 around the world. I got the 64GB international version, currently available via invite only. It sports a 1080p HD 5.5-inch display, Snapdragon quad-core processor, CyanogenMod OS, 13MP back camera, and a 3100mAh battery. My version usually costs US$350, but I had to pay a bit extra to get it here in mainland China. The 16GB international model normally costs a very modest US$299.
A custom job, inside and out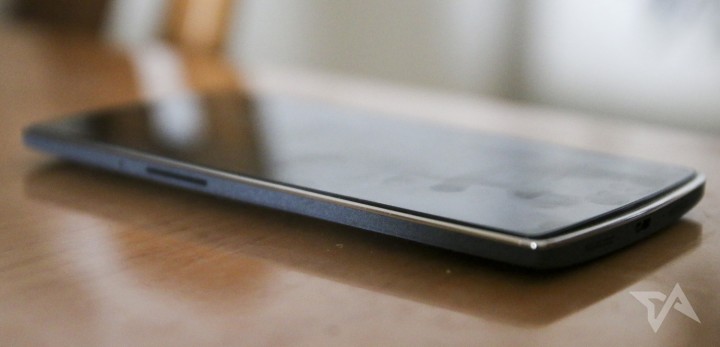 OnePlus' claim that their build quality is surpassed only by Apple would probably hold up in court. The phone feels excellent, with a gently curved back cover that can be swapped to your heart's content – bamboo, kevlar, denim, etc. Mine came with sandstone black, which I thoroughly enjoy rubbing on my cheek when no one is looking. It's easy to pick up off a table, and I've yet to drop it.
For those wary of stepping beyond the bounds of Google's purist Android and into CyanogenMod, fear not. I've had zero compatibility issues with any of my apps, and I can honestly say that anyone who's used newer versions of stock Android will feel right at home. Best of all, you get a bajillion customization tweaks at your disposal, and CyanogenMod tends to be a bit more quick and agile with updates and bug fixes than Android purveyors like Samsung and HTC with their non-stock OS skins. As a bonus, it's bloatware-free.
It's easy to get lost in the number of sub-menus in the settings section. For instance, I can set the color of the notification light on the front of the phone to flash specific colors for different apps. Double tapping the screen wakes the phone. I had some trouble taking screenshots with the default button combo, so I added the function to a menu that appears when I hold down the power button. These just scratch the surface of the depth to which you can tailor Cyanogen, or you can forego it all and just leave it as is.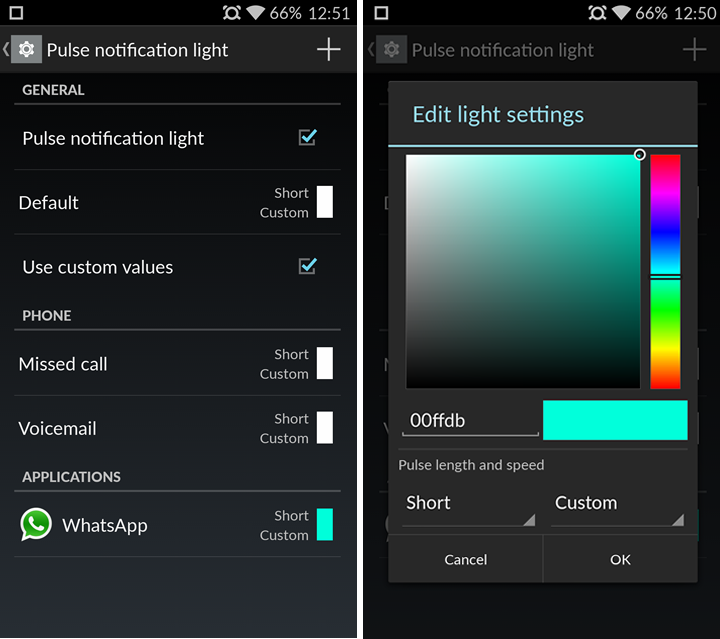 A wide array of themes are also available to peruse, both paid and free, and you can mix and match elements like wallpapers, app icons, notification icons, fonts, and more.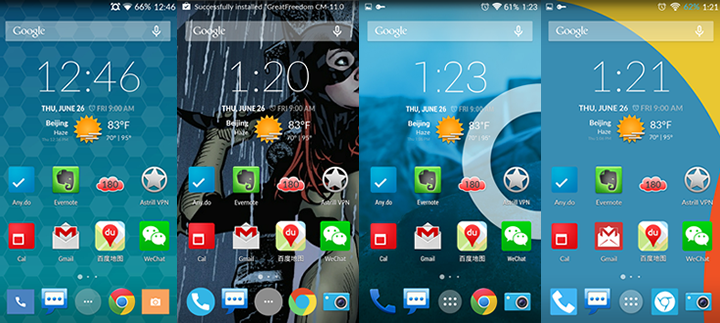 See: 15 new Asian smartphone makers hoping to crush Samsung and Apple
Camera, display, and storage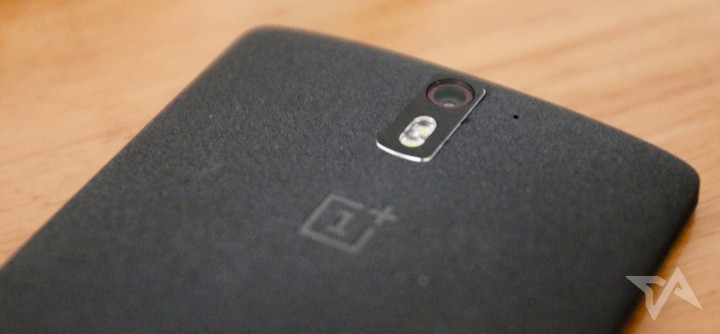 The 13MP Sony Exmor camera is the same one you'll find in the OnePlus' godfather, the Oppo Find 7. Colors are very accurate, which to some people can appear dull. The 4x zoom is as much as you could ask for without sacrificing quality. It's a decent lens in low light, if a little grainy. Scenes with drastic differences in lighting – such as a window in the background – can cause some washout and throw off the auto-exposure, however. It won't snap pics as instantly as an iPhone, but the slight delay is tolerable. The built-in photo-editing app is pretty extensive and it includes a panorama mode. (See a few unedited photos from the camera here on Imgur).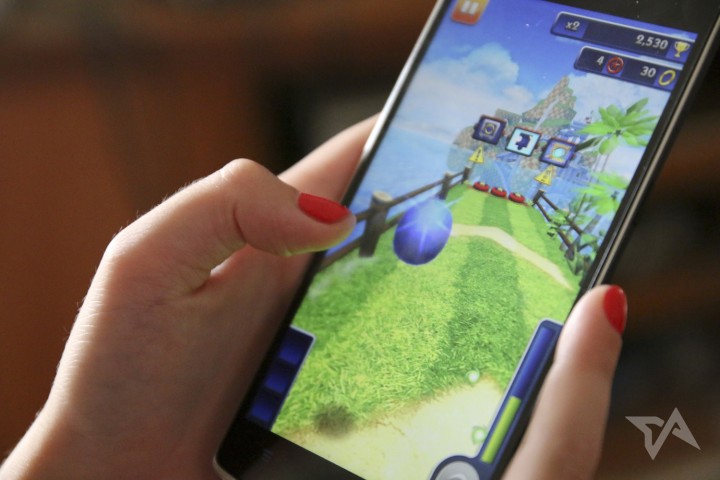 The quad-core Snapdragon 801 is more than enough to meet the large majority of users' demands. Streaming HD video plays smoothly with no stutters or artifacts, and 10 minutes of a 3D game only made the One slightly warm to the touch.
The 1080p screen looks great and is easily viewable even in broad daylight, and from pretty much any angle.
The battery easily lasts a full day and then some in case you forget to charge it. It's not removable though, so getting a replacement once wear and tear starts to take its toll isn't really an option. I want a phone that will last me two years, and while the build quality of the OnePlus gives me faith it could live that long, the battery instills some doubt.
Storage isn't expandable with SD cards, so you're stuck with internal 16GB or 64GB. The latter costs an extra US$50.
There's no other way to say this: the OnePlus One is a phablet. Upgrading from a 4.5-inch phone, the size of the One took a bit of getting used to. It's a pleasant fit for my big hands, but I worry it might be off-putting for those with diminutive digits. That likely won't be a factor for the phablet-obsessed China market, though.
I was frankly disappointed with the call quality. Jacking the volume to the max still requires me to line up the speaker directly to my ear canal, and everything sounds a bit tinny.
15 minutes of fame?
Overall, I'm extremely happy with my purchase, but I'm dreading the potential buyer's remorse when the next Xiaomi and Nexus models are released later this year. You can bet the Xiaomi Mi3s (or possibly Mi4) and Nexus 6 will be biting at OnePlus' heels, so it might be worth the wait to find out what they've got in store.
If you do want the OnePlus One, you might have to sit on your hands for a while as the international version is only available via invite for the time being. It's being sold in Austria, Belgium, Denmark, Finland, France, Germany, Hong Kong, Italy, Netherlands, Portugal, Spain, Sweden, Taiwan, the UK, and the US.
OnePlus One pros
Great build quality
Slick, unique look
CyanogenMod is fully customizable with no bloatware
Display, camera, and power are the best bang for your buck
OnePlus One cons
Too big for one-handed use
Non-removable battery
Limited availability
Calls are too quiet and sound tinny