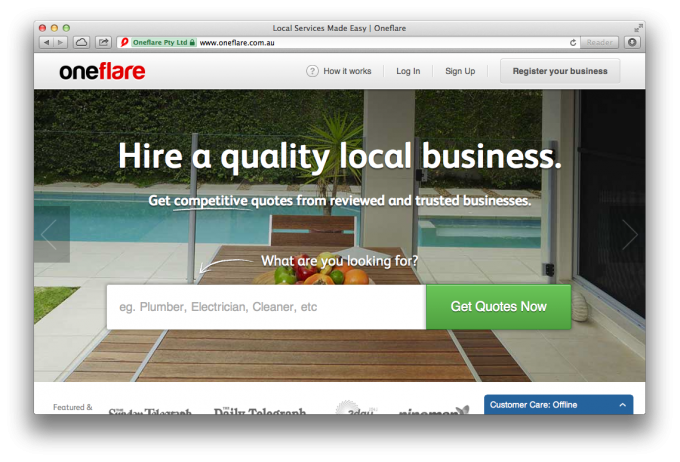 Local services listings startup OneFlare revealed today that it has raised $500,000 from three Australian angel investors: Les Szekely from Grand Prix Capital, Garry Visontay of Principal Sydney Seed Fund, and Dr. Jeffrey Tobias of the Strategy Group. That same trio has also invested in DesignCrowd last year.
Headed by Singapore-born CEO Marcus Lim, Australia-based OneFlare has seen strong growth in numbers in terms of users and businesses listed.
The site now has 130,000 unique monthly visitors, this is an increase in traffic of 1,300 percent in the last 12 months. There are over 30,000 businesses registered in more than 250 service categories. OneFlare has processed a total value of $16 million in jobs requested. The plan is to expand the Yellow Pages-style online listings to Singapore in 2014 at oneflare.com.sg.
Marcus comments about this funding:
We're now cash-flow positive so this funding is really about scaling and becoming the number one marketplace for consumers and service businesses to find each other. The experience that our investors bring to Oneflare is equally as important as their funding. We look forward to tapping into their experience, and capital, to fire a rocket under our already rapid growth.
The startup itself was first founded in January 2011 under the name 'Pick a Quote'.