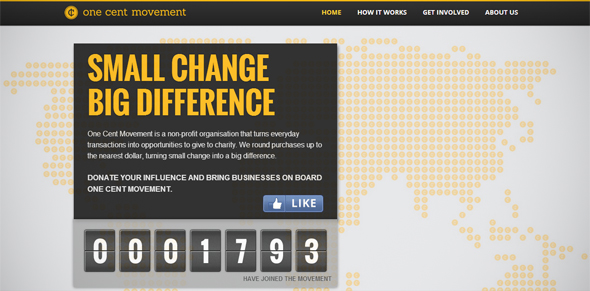 Imagine buying a cup of coffee, an iPod or an airplane ticket online, and each purchase is rounded up to the nearest dollar. The difference goes directly to charity. One Cent Movement is a not-for-profit organization that makes this possible.
Neither a company nor a charity, the organization turns everyday transactions into charitable opportunities. It works with online merchants to implement a round-up system to checkout carts using API and plugins. These businesses are then able to select the charities they want to donate to. Shoppers can opt to round up their online purchases to the nearest dollar.
These transactions are tracked and invoiced to the businesses every month. In turn, charities will report back to them with pictures and progress updates every quarter to account for funds received.
Besides working with online merchants, One Cent Movement has an offline implementation. Not forgetting the traditional donation box, the organization provides branded boxes for businesses at checkout counters. Customers can choose to drop in their spare change. Every month, a volunteer picks up the donation box and accounts for the donation amount.
The organization also works with consumers. They can enroll their credit or debit card with One Cent Movement, and choose whether to donate each time they use their card by rounding up to the nearest dollar, or by just one cent.
It counts on a group of private donors, foundations and corporate sponsors to pay for their everyday costs. Which means 100% of public donations go directly to charity. It is currently based in Singapore, with an initial focus on Singapore, Malaysia, Australia and the United States.
These initiatives are all location-centric — local businesses donate to local charities — avoiding transaction costs and exchange-rate charges.
One Cent Movement's solution is somewhat similar to SwipeGood, a Y-Combinator incubated company.
About the author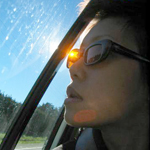 Sharon Yar is a self-confessed Coca-Cola addict, paper model maker, aspiring karaoke superstar – and also Creative Entrepreneur at Peepshow Creative. With close to 16 years of experience in consumer advertising, her portfolio of clients includes Singapore Airlines, Volkswagen, Sony, Nike, Levi's, Tiger Beer, Chivas Regal, Raffles Hotels and Four Seasons. She has developed campaigns across a wide range of channels, including Corporate Identity, Web Design, Digital, Social Media and App Development. Want to know more? Email Sharon at yar (at) peepshowcreative.com or connect with her on LinkedIn.