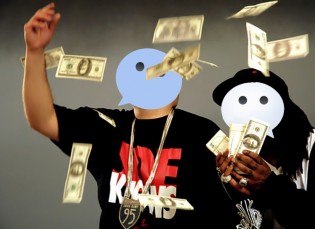 The battle has been raging for several months now over how Chinese telecoms should be compensated, if at all, for the losses they incur as OTT services like WeChat. Telecoms want to be subsidized, either by the government or by Tencent and its WeChat users, and from the sound of a recent report in Securities Market Weekly, it's going to be the latter. The report quotes a source at China's Ministry of Industry and Information Technology (MIIT) as saying:
WeChat will definitely have to pay fees, but specifically how those fees will be collected is still being considered and researched.
Tencent hasn't responded officially (most of China is still on vacation for Tomb Sweeping Day), but separately the company did deny several rumors about specific payment strategies through its official WeChat microblog account on Sina Weibo. The message, which was posted after the release of the Securities Market Weekly report, does not explicitly state that WeChat doesn't plan to start charging a fee, it merely debunks three specific rumors about fee structures that had been making the rounds online.
Assuming that WeChat does start charging users a fee, Tencent's baby could be in big trouble. A Xinhua online poll found that around ninety percent of WeChat users say they'd ditch the service if it started costing money. But the MIIT official's wording doesn't preclude the possibility that Tencent might pick up the bill without passing the costs along to its customers. And since passing the costs to customers seems likely to sink the app altogether, it seems likely that Tencent will try its hardest to keep the app free and instead cover the fees through online-to-offline e-commerce, added-value services, and games. (For more on Tencent's three-pronged WeChat monetization strategy, check out this report).
(Securities Market Weekly via Sina Tech)