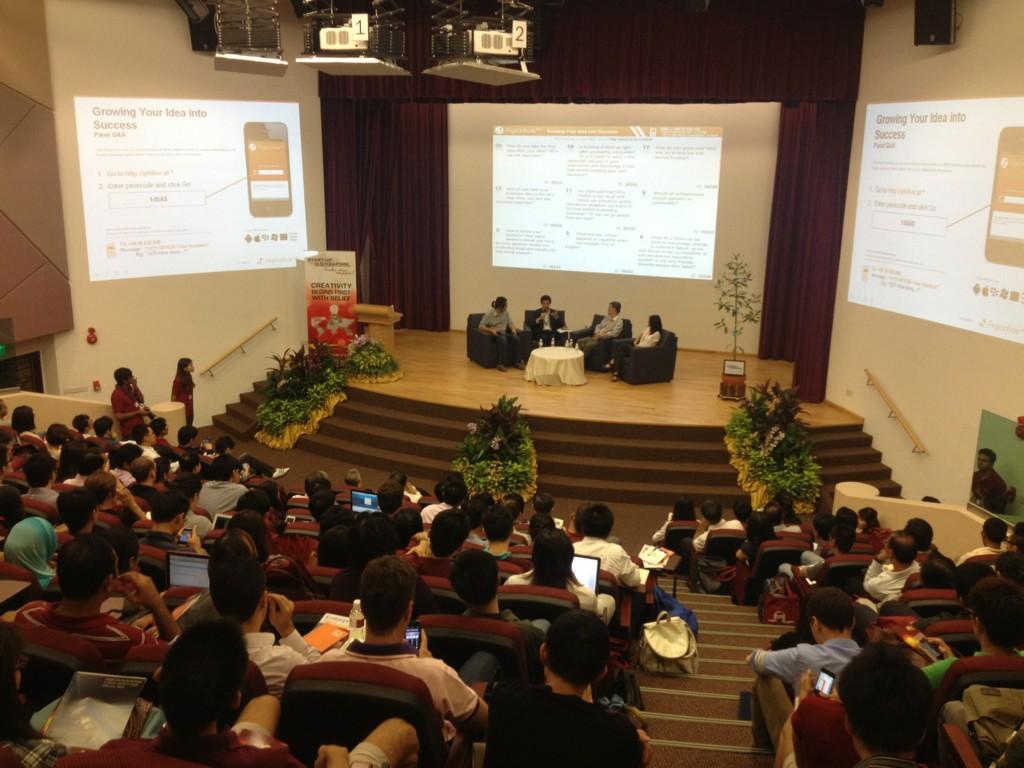 Singapore's longest running start-up challenge, Start-Up@Singapore, held its official launch at the Hon Sui Sen Auditorium on 19th October 2012, thus declaring the 14th edition of the competition open.
Supported by the presence of some of Singapore's most promising entrepreneurs, the event commenced with Guest of Honour, NUS Provost Professor Tan, and the Start-Up@Singapore Steering Committee members watering the Tree of Dreams, a tree representing the aspirations of all entrepreneurs, which would later be planted at the NUS Business School.
This was followed by a panel discussion on starting-up. The panel comprised Darius Cheung of BillPin, Min Xuan Lee of Playmoolah, Jack Sim of World Toilet Organization, and Adrin Loi of Ya Kun Kaya Toast.
One of the most frequented questions about entrepreneurship is regarding the right time to start-up. There wasn't a consolidated answer to this question as everyone has had different experiences at different ages of their lives.
Jack opined that there is no 'right time' for starting a business and that missing out on junior college or university is alright. He went on to mention that it is riskier to work for others than to run a business as there is no guarantee that you won't be fired by the age of 40.
Then came up the question of just how valuable an idea is.  Here, Jack said that every problem encountered is a potential opportunity for an entrepreneur. Adrin added that it's not just the idea, but the benefit must also be sold to a customer and this was supported by Min Xuan who believes that the market wins at the end of the day and only time could impart credibility to an idea.
The discussion shifted in an all new direction as the audience voted for the most popular question using a Q&A conferencing tool, which asked whether connections are really more important than the product itself when creating multi-million dollar companies.
Jack talked about the importance of combining the two factors by getting valuable criticism on an idea from trusted connections. Min Xuan, however, dismissed the significance of connections over an idea by talking about an intern in Playmoolah's US office, who took the initiative to talk to every gaming app person he could meet as that was where his passion laid.
Talking about partners, Adrin said that every partnership involves give and take and that partners must have interest in the business and must be able to contribute to a common goal. To find the right partner, Jack continued, one would have to play Mahjong or even undergo a courtship phase because there is some chemistry required, just like finding a wife.
Min Xuan added that an entrepreneur should rather not hire than hire the wrong person and Jack agreed by saying that a single founder is better than two or more wrong ones.
To conclude the discussion, each panelist gave their advice to all budding entrepreneurs. Min Xuan encouraged everyone to test their assumptions while being wary of whose advice they take. Jack told young entrepreneurs not to worry about money, while Adrin told them to follow his four Ps – Perseverance, Passion, Perfection and People.
The panellists and guests then headed for the Start-Up Showcase, an exhibition by past winners of the Start-Up@Singapore competition.
About Start-Up@Singapore: Established in 1999, and run under the auspices of the NUS Entrepreneurship Centre, Start-Up@Singapore is arguably Singapore's premier start-up challenge.  The competition this year is divided into three challenges: Business Venture Challenge, i.e the traditional business plan competition, the Social Venture Challenge, which aims to showcase pioneers in the field of social entrepreneurship and the all new Product Showcase, which is Start-Up@Singapore's take on a Science Fair — a showcase of innovative and groundbreaking products and technologies. The awards include in excess of $85,000 in prize money and incubation support for winners, and a green lane to the ACE Start-Up Grant.
The deadline for submission of competition entries is 8th February, 2013 (extended to 14th February). Before that, Start-Up@Singapore will be organizing a series of educational events, starting with the Speaker Series (November 1), a set of 4 seminars by reputed entrepreneurs, and the Start-Up Dynamo (January 2013), a 3-day workshop which would emphasize the principles of Lean Start-Up: Customer Validation, Problem Hypotheses and so on.