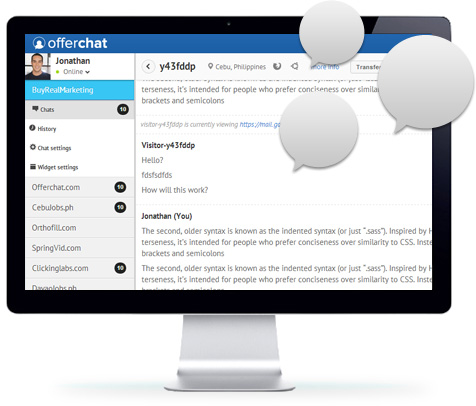 OfferChat is a made-in-the-Philippines live chat software. And guess what? The software is free. Not even freemium, but free, forever. The startup does have plans to push out premium features, but according to this blog post, these premium features will also be available at no cost to its users.
The burning question many will have now is: how the hell is OfferChat going to make money? The answer is through offering the outsourcing of human chat agents. Many of its competitors charge based on software usage. Rather than following suit, OfferChat makes money by offering human agents to its clients. For example, its basic package costs $99 per week and helps its clients deal with up to 20 hours of live chat support (the outsourced agents will be trained to understand the company's products). Think of it like a call center model that OfferChat is applying to online live chat. It should work perfectly in Philippines as compared to costly Singapore or the U.S.
Since being founded in August 2012, OfferChat has more than 1,000 active free users of its software. Co-founder Jonathan Kennedy said that his team runs a couple of e-commerce sites and OfferChat was created initially just for internal use before deciding to push it to the public.