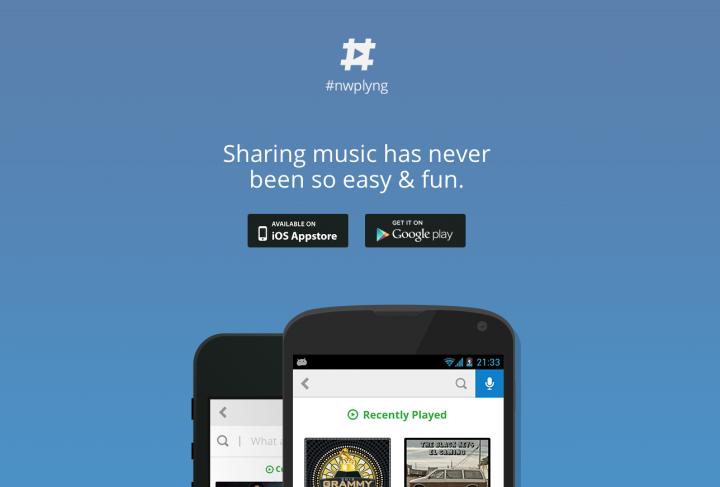 With content sharing dominated by Twitter for micro-blogging, Instagram for photos and Foursquare for location, developers are now racing to crack one content that has yet to go mainstream: music. Coming from India, Nwplyng (short for "now playing") is combining all the recipes for content sharing social media: badges, followers, discovery, and gamification. This week, it launches 'Artists Records', a badge that you can unlock by sharing 10-12 songs of a particular artist. The songs that you need to unlock are hand-picked by the hardcore fans of the artist, so it could be one that you may have never heard of before. Be the first person to unlock those songs by sharing them and you can receive a $15 iTunes gift card.
In case you haven't yet grasped how Nwplyng works, it basically works like Twitter where you can follow and to be followed by other Nwplyng users, but instead of sharing texts you would be sharing music. You can also discover trending music just like Instagram does with photos, and once you have shared a track, you receive badges like those you get in Foursquare. The more you share music from a particular artist, the higher your rank would be for that particular artist. With the new 'Artists Records', the gamification gets a lot more interesting.
Currently, 'Artists Records' launches with tunes from Daft Punk and Pearl Jam records. Nwplyng is planning to roll out Rolling Stones tracks in the near future. Sadly there is not yet any official support from the record labels, although it does have some Spotify integration so you can choose to listen to the song that is shared on Spotify – or on Youtube. The CEO of Nwplyng, Utsav Agarwal, told us that help is on its way to get record labels joining them now that US music exec Ted Cohen is joining Nwplyng as board member and advisor.
Utsav did not reveal the total number of members on the site, but told us that they have a little under 13 percent are daily active users, and 41 percent are monthly active users. He also claims that Nwplyng is the first music app that uses hashtags as metadata for music discovery, to be followed soon by Soundtracking – though there is also Twitter #Music. He also told us that in the near future, Nwplyng will be getting deeper Spotify integration and will be launching a Chrome extension.
You can download its Android app here and iOS app here.

(Editing by Steven Millward and Anh-Minh Do)