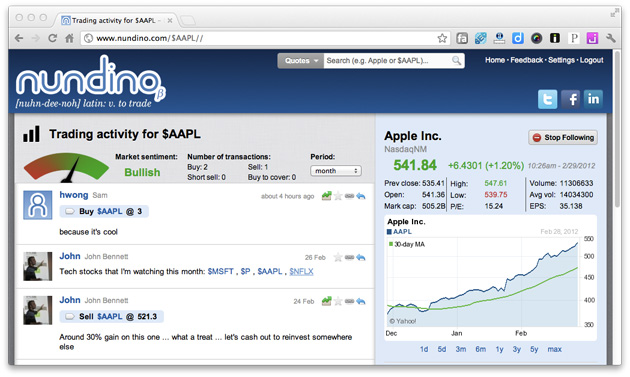 I'm not much of a stock trader but I do tweet from time to time. Nundino, comes from the Latin verb 'nundinor,' is a new vertical of microblog that targets traders and bankers who like to tweet. Instead of tweeting "I bought this awesome cupcake," Nundino encourages users to tweet what stock they are going to buy, sell, or short. Co-founder of Nundino, Anju Aggarwal, describes her service as follows:
Nundino is a free social community and micro blogging platform for online traders. It enables online traders to share their trades, 'follow' traders, and stocks and gain insight on what others are trading in real time.
If enough people actually use Nundino to tweet their trades honestly, it could become a source of insights for the trader community. For example Nundino's user sentiment and movement on $AAPL can be tracked and visualized under one page (see the screenshot above). With the iPad 3 announcement coming soon, it seems like more people are buying. Of course, the number of transactions still low as a Nundino has just launched today at Demo Asia. Users can follow stock they want to track and also people tweeting insightful information.
Nundino looks useful, assuming there is a horde of people using the service. So the biggest challenge for Nundino is perhaps on user acquisition. The more people who use it, the more valuable its data becomes. But if no one shares their trades, then it means nothing.
But for trader geeks, it could bring some value — so head over to Nundino.com to register and start tweeting your trades.