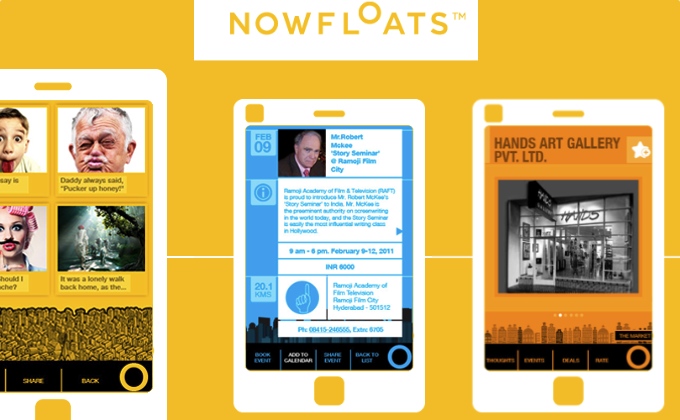 As much fun as global social media can be – showing you photos of what some dude you sort of know on Twitter is eating for breakfast in Chicago – it's usually not very relevant to where we are and what we're doing at this moment. One Indian startup reckons that it'd be much better to focus on what's local. So NowFloats lets you post your thoughts or photos and pins them to your location – and to keep the information fresh, these auto-expire after just seven days.
But your Twitter-esque post – called a 'float' within the NowFloats app – will stick around for longer if fellow users find it useful. Here it becomes a bit more like Reddit, as your float can be 'aired' (like an upvote) to make it rise up, so it'll remain visible at its location for longer. Also, comments and debate will make it float around for longer. Or, a NowFloats user could opt to 'sink' it, so that the thought is pulverized in the ether. It's as if Twitter merged with Foursquare and decided to keep only what's fresh, trending, and relevant.
This location-based app also aims to make itself useful when you're out shopping. The NowFloats apps (for Android, Windows Phone, and Windows 8; iOS is in the works) even allow users to rate stores. And, more than that, the Hyderabad-based startup has formed partnerships to get local deals into the app. NowFloats's business development manager, Vijay Vadlamani, tells us that they've partnered with the likes of MyDala to get daily deals across India, and with MeraEvents to ensure that major events appear in the app. Vijay adds:
Our app works across the world. We've partnered with Eventful.com for event information from around the world. However, our focus is currently on India.
For businesses, NowFloats touts that it can target passing shoppers as they stroll by stores – either by joining as a partner merchant on the platform, or just by using it in a social way to tune into passing customers and talk to them directly via the app.
The startup was co-founded by a bunch of ex-Microsoft employees and has recently won the Microsoft BizSpark award for the most innovative idea in India – that saw them bestowed with a $30,000 grant from the Redmond giant. Vijay adds: "We are incubated at Microsoft Accelerator for Windows Azure, at Microsoft Research in Bangalore."
Snag the NowFloats app from the startup's homepage, or check out the nicely animated demo video: