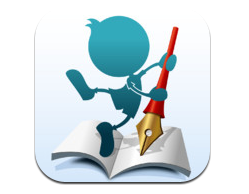 Readers may remember last year when we featured Metamoji's 7notes iPad application, which conveniently converts your handwriting into text. Recently, the company also pushed out a similar note-taking application called Note Anywhere. And so far, Note Anywhere has been performing pretty well.
After about a week at number one in Japan as the top free app overall, it's currently ranked ninth — although it is still first in the 'productivity' category. It appears to be catching on in the US market as well, and is currently number eight in the 'productivity' category there.
In contrast with 7notes, this new application not only lets you jot down notes by hand, but also lets you combine that with sketches, images, digital text, and other web content to create and share documents. While there isn't the text conversion feature that we saw in 7notes, the floating palette interface makes it easy to write notes in different styles and colors.
Upon opening the app, you're presented with a choice of note layout templates. From there you can take notes with your finger or with a stylus, although I recommend the latter if you're going to be using it extensively. Your handwriting becomes a vector graphics element, which you can drag around the canvas an manipulate in many ways. If you'd like to add images from the web or your camera roll, you can do that as well.
Once you've finished, there are a number of sharing/export options, including social networks like Twitter, Facebook, or Tumblr, email, or send to your photo album or print.
Of course the 7notes application was far from free at $7.99. So I found it curious that Metamoji had taken a different pricing approach with Note Anytime. Kyosuke Tsuda of Metamoji explained a little more about this decision:
Through our experience with 7notes, we learned that for the global market, even a $1 charge is not good [if we want] to expand our customer base. [So] we decided to follow Freemium strategy. Our strategy is not just on selling add-on of apps but extend server features after we launch Note Anytime for Windows 8, iPhone, and Android, [which is] planned within the next several months.
As you can see, Metamoji's aspirations extend even beyond the iPad, and it will be interesting to see how their plans go. To learn more about how the application works, you can check out the promo video below, or see their assortment of tutorial videos for the application.