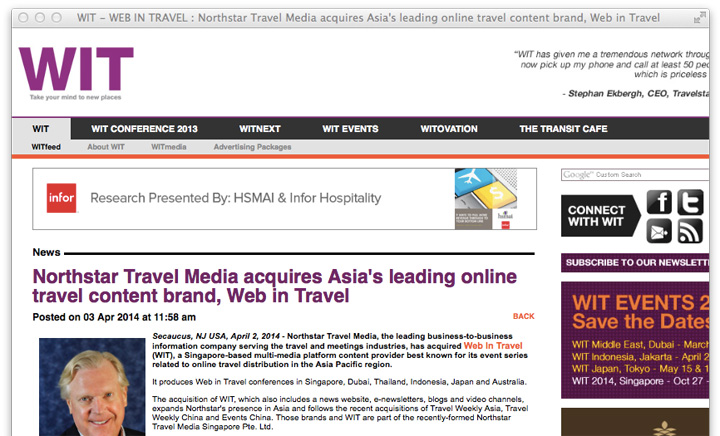 Northstar Travel Media, a business information and marketing solutions provider, has acquired Web in Travel (WIT), a Singapore-based media platform founded by Yeoh Siew Hoon that specializes in travel technology, distribution, and marketing.
The acquisition of WIT follows Northstar's recent acquisitions of Travel Weekly Asia, Travel Weekly China, and Events China, which gives them a stronger foothold in the Asian travel market. Those brands and WIT together form part of the recently established Northstar Travel Media Singapore Pte. Ltd.
With WIT's conferences on online travel distribution in the Asia-Pacific region as part of its arsenal, Northstar now has face-to-face events in Asia to complement the newly acquired publishing brands serving the Asian travel trade.
"The addition of WIT is an important strategic move for our company and demonstrates our dedication to providing the best information from all parts of the world," said Thomas Kemp, Chairman and CEO of Northstar Travel Media.