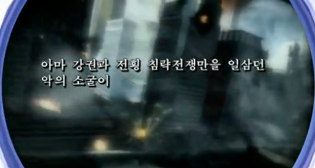 Today, the Western media is all over the North Korean propaganda video posted to YouTube that shows the United States under missile attack, with explosions and skyscrapers on fire. According to a Telegraph translation, the video explains: "Somewhere in the United States, black clouds of smoke are billowing; it seems that the nest of wickedness is ablaze with the fire started by itself."
North Korea is actually no newcomer to YouTube propaganda. The country maintains an official YouTube channel with nearly 5,500 videos that has been in operation for around two years. But with the rocket attack video, the country may have its first viral hit. The vast majority of its videos have just a few dozen views, but the one with the US on fire already has over 61,000 views and it has been reposted several times to other YouTube accounts already.
Google Chairman Eric Schmidt's recent visit to North Korea has been widely written about already, but it is interesting to consider in the context of this video. Bill Richardson, who traveled with Schmidt in North Korea, wrote in the Washington Post that "[Schmidt] spoke about the advantages of adopting the Internet" and that "his message was well-received by officials[.]"
Indeed, it seems the North Korean regime already understands the value of the internet and of Western social media sites like YouTube. Having created such a stir with this latest video, it seems possible that the government will place more emphasis on digital propaganda going forward. Could English-language videos be next? The government has occasionally used English in the videos posted to its YouTube account, but the vast majority are still only in Korean.
With a North Korean nuclear test apparently imminent, this pot-stirring video is likely to concern not only the United States but also North Korea's regional ally China, which in general seem to prefer that North Korea not disrupt global politics with poorly-produced YouTube videos, so it's possible that big brother is about to step in and tell North Korea to knock this off.
But something tells me that we'll be seeing more of North Korea on the web in the future. I recently played the country's first official video game, and all signs point to North Korea being interested in making use of the internet to promote its message abroad.
UPDATE: It appears that the footage of the US in flames was "borrowed" from the hit video game Call of Duty: Modern Warfare 3, and the video has thus been removed from YouTube as the result of an IP theft claim from Activision. You can see it here, though.
(Sources: The Telegraph, North Korea Tech)