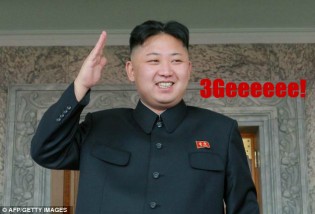 Starting next week, foreign visitors going into North Korea will no longer be entering a digital void. The Korean-Egyptian joint venture company Koryolink has, after a year of negotiations, set up a mobile internet service that will launch on March 1st – but at a hefty price.
The new Koryolink service involves buying a USB-connected wifi hotspot and SIM card, which will give full and apparently uncensored web access to North Korean visitors (but not locals) after coughing up $300 for the hardware 1. But that doesn't include 3G data, which will cost $200 for 2GB (yes, two hundred dollars) or $525 for 10GB of data. It appears to be geared towards businesspeople rather than short-term visitors, however.
Interestingly, China's Xinhua news agency, as spotted by NorthKoreaTech, suggests that North Korea's mobile internet airwaves will be less restricted than China's. An unnamed source at Koryolink told them:
You will be able to tweet, Skype and surf the internet from your own cellphones, iPads and other mobile devices as soon as you register at the Korean Communication Center.
Referring to the recent visit of Google chairman Eric Schmidt, the spokesperson added:
We have tried more than one year to negotiate with the Korean side, and got the approval recently. It has nothing to do with the Google trip.
Kim Jong-un's smartphone
The news comes a week after reports emerged of North Korea's immigration authorities actually allowing tourists to bring in mobile devices. Previously, video-recording and communication devices were held by authorities and then returned at the end of the trip.
Despite ongoing antagonism between Pyongyang and the west – especially the US – there are signs that North Korea might be opening up to technology. Earlier this month, new leader Kim Jong-un was spotted carrying a HTC smartphone.
Visitors to North Korea who opt for this pricey package might like to make use of Google Maps' new and fairly detailed maps of the secretive nation, which were added earlier this year.
This being North Korea, it's conceivable that the Koryolink deal could be cancelled at any time. The company is a joint-venture between Cairo-based Orascom Telecom and Pyongyang's Korea Posts and Telecommunications Corporation.
(Sources: China.org, via NorthKoreaTech)
It's not clear why visitors can't just purchase a 3G SIM card. But it's possibly due to North Korea's 3G frequencies being fragmented and not universal to most smartphones.↩