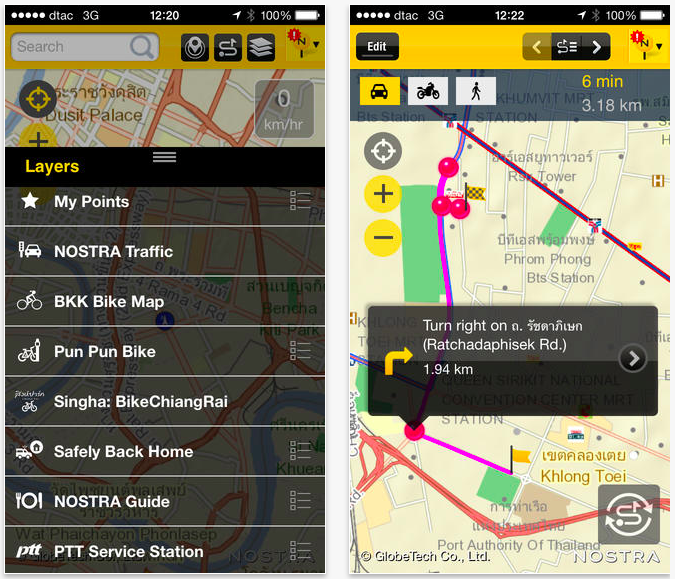 Bangkok's traffic is notoriously bad. The whole world knows it. Even with the Skytrain and subway, some people in the city still prefer to use cars or taxis.
Lots of apps are trying to make life easier amidst the traffic. The latest such Bangkok traffic app is from Nostra Map. Partnering with FM 100, a radio station well known for its traffic reports [1], Nostra adds live traffic reports to its mobile application. Available both in Thai and English, the Norstra Live Traffic Report app not only shows the status of the jam, it also highlights accidents and other events that might affect traffic. According to the company, the accuracy rate is tuned to just four meters at its millions of points of interests across the country.
Since the radio station is known for crowdsourcing the info from people who are actually on the road, the app uses the same concept. Users can submit real-time information about the traffic and any accidents they encounter on the street.
The app also shows gas stations and tourist spots around the user's current location.
(See: Avoid Bangkok's traffic by taking to the river with this helpful new app)
Nostra Map expects that this collaboration with the radio station will add more active users to the app – from its current 700,000 up to one million in its native Thailand by the end of the year.
There are quite a few apps created to solve the capital's car flow problems – well, not solve exactly, but they can help out. For example, there's BMA Live Traffic or Bangkok Traffic.
The Norstra Live Traffic Report app is available on iOS, Android, and Windows Phone.
(Editing by Steven Millward)
---
The station is known as Jor-Sor 100 in Thai.  ↩