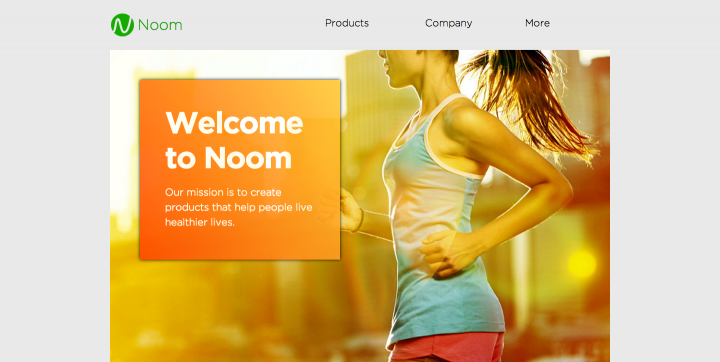 Noom, the NYC-based startup behind a set of mobile weight loss apps announced today it has received a $7 million series A funding round led by New York-based RRE Ventures. Other participants in the round included TransLink Capital, Scrum Ventures, Recruit Group Japan, Qualcomm Ventures and Harbor Pacific Capital.
According to beSUCCESS, the company will use the funding to expand its audience, which has been growing steadily. In 2013, after translating the app into German and Japanese, the app passed the 20 million download mark by the end of the year.
Noom's flagship Android app, Noom Weight Loss Coach, is a pretty comprehensive app for all-things weight loss related – you've got your food diary, your workout logging, your pedometer, along with daily reads and a social network with other users.

In addition to Noom Weight Loss Coach, the company's other apps include Noom Weight for iPhone and Noom Walk, a souped-up pedometer that uses Android 4.4's sensor technology in an effort to conserve battery power. The company also worked with the National Institute of Health in the United States to help out with a study on smartphone use and eating disorders by developing Noom Monitor, which helps men and women fighting unhealthy eating habits log and track their behavior. That app has yet to hit the mass market though.
This funding round follows a $2.6 million pre-seed investment led by m8 capital in August 2012. That cash injection helped the company set up an office in Korea, a native home for co-founder Saeju Jeong, where the company has since cultivated the Asian side of its operations.
Noom's core apps for Android and the iPhone are both free-to-download and charge for various premium membership tiers. The startup is growing in the ever-crowded mobile health and fitness space, where its app faces competition from Retrofit, Gympact, Lose It, and a number of other players. Of course, minor features on these apps can make a world of a difference to users who depend on them, so coexistence is more-or-less the status quo for the sector.
(Source: beSUCCESS)
(Editing by Steven Millward)