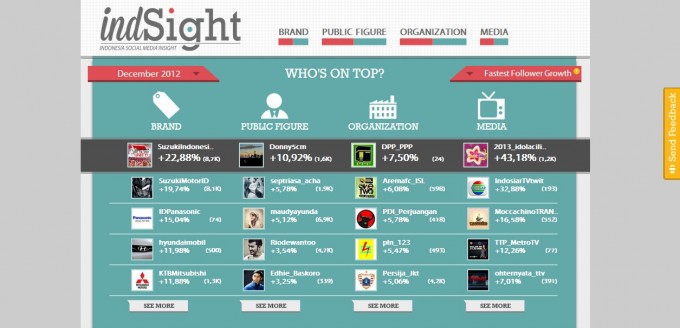 NoLimit, an Indonesian startup that specializes in analyzing social media through conversation analysis, launched its IndSight project a couple of days ago. The team describes it as a portal where users can monitor the latest social media trends in Indonesia.
There are four main channels analyzed on IndSight: brands, public figures, organizations, and media. Each of those have their own sub channels like 'motorcycle' for brand, or 'politician' for public figure. All channels are analyzed based on activity on Facebook and Twitter. We can easily see the visualized data about things like fans or followers, total posts made, and engagement rate [1] of monitored accounts there. IndSight also allows people to compare the top social media accounts from each sub channel.
IndSight will earn revenue from premium research services for clients who need deeper, more detailed insight. The fee for the this particular service is based on the quantity and complexity of the requested research.
The target market for IndSight is digital media or advertising agencies, enterprises, and social media managers or digital strategist. The team believes that IndSight can be used to keep users updated on hot topics, or to analyze conversation or patterns in a social media campaign.
The company has two other products, in addition to IndSight, in its social media dashboard and SocialMeter. The team is looking to upgrade and harmonize all three products to provide an all round social media campaign solution for clients.
IndSight can be accessed for free at IndSight.me. You can also email NoLimit if you're interested to to know more.
---
Engagement rate is calculated based on the number of active fans/followers compared to the total number of fans/followers. The findings can help conclude how close a certain account's relationship is with its fans/followers.  ↩