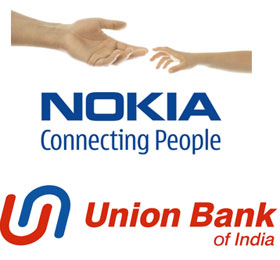 Nokia India joined hands with the Union Bank of India to introduce mobile payment services in rural India. The service called "Union Bank Money powered by Nokia" has already been rolled out in Gurgaon and will be soon go live in Delhi, Faridabad and Noida. This will be followed by a nationwide roll-out over the next few months.
The mobile payment service is powered by Obopay mobile payment platform which will be installed on upcoming Nokia phones. Existing Nokia users can also register for the service at a Nokia retail outlet.
The Union Bank Money service allows users to store money safely, send money and make payments across locations, eliminating the need for intermediaries. Users can pay bills or top-up prepaid SIM cards. They will also be able to do P2P transfers, as well as use it at accepting merchant points to pay for goods and services.
With an existing strength of over 2900 branches and around 2400 ATMs of Union Bank of India across India, the distribution of mobile payment services will be further aided by Nokia's retail network of more than 200,000+ outlets. Additionally, Nokia's vast network of retailers will act as business correspondents for the bank, in addition to the thousands of already appointed business correspondents by the bank. This partnership strengthens Union Bank of India's aim to enable financial inclusion for both the rural and urban population.
Speaking on the launch, Mr. M.V. Nair, Chairman & Managing Director, Union Bank of India, said, "We strongly believe Union Bank Money will augment financial inclusion amongst the unbanked and under-banked consumer segments by bringing financial services through the mobile device. Technology is a great enabler for banking services and our partnership with Nokia will help us offer 'Anytime Anywhere' financial services to consumers across the country. Once rolled out across the nation, Union Bank Money will be the single largest network in India to provide mobile financial services to consumers in urban as well as penetrate rural areas to tap the unbanked populace."
Gary Singh, General Manager, Nokia Mobile Payment Services said , "Conducive regulatory policies, mobile phone penetration and  government financial inclusion initiatives have come together to create the perfect moment for mobile financial services in India.  Union Bank Money leverages these building blocks to overcome traditional barriers of entry faced by first time users. The solution is accessible, easy to use, secure, and fully interoperable.  It makes mobile financial services a reality for all."
Similar services have been already introduced by mobile operators in India. The Bharti Airtel tied-up with the State Bank of India launching "Airtel Money" and ICICI Bank's tie-up with Vodafone Essar to offer financial products through a mobile platform are some examples. Analysts state that mobile banking ventures are expected to help the operators get customer loyalty while boosting their flagging margins. Nokia seems to be very active in Asia. This is probably one of Nokia's steps toward connecting the next billion mobile users.