Back on April 1st, Nokia (HEL:NOK1V; NYSE:NOK) announced that it'd be closing its flagship Nokia store in Shanghai. But it was no April Fool's joke. It's the latest in a series of shutdowns of the phone-maker's failing retail storefronts. The Shanghai store is – well, was – its largest remaining shop.
Unfortunately for Nokia, not many people really noticed or cared that the shop is closing. The 'Nokia Flagship Store SH' account on Sina Weibo has had only 938 reposts of its "Goodbye Shanghai" post in the past three days. Trending Weibo posts generally get tens of thousands of interactions. But the account only had 4,251 fans anyway.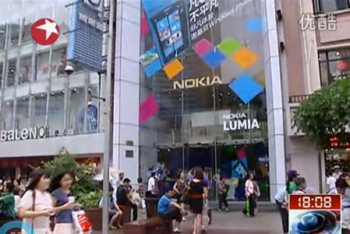 The Nokia Shanghai store opened in 2007, one of about 10 worldwide. At that time, Nokia was still China's top phone-maker with its Symbian platform. Then Android and iOS happened. While Symbian still has a surprisingly large user-base in China, all the traction is behind Android, and there'll be an estimated 300 million active Android users in China by the end of this year. In contrast, Nokia's stats for 2012 were disastrous in China, with sales down 79 percent throughout the year. Now Nokia is pinning its hopes on the Windows Phone OS, but it's growing slowly.
In contrast, Apple has three major stores in Shanghai, and has rapidly expanded to have eight Apple Stores in four cities across mainland China.
Nokia's flagship store on London's Regent's Street closed back in 2009.
(Source: Sina Tech – article in Chinese)