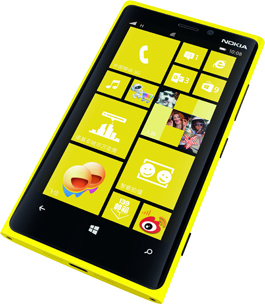 Nokia (HEL:NOK1V; NYSE:NOK) brought the first Windows Phone 8 (WP8) device to China today with the launch of its Lumia 920T on the nation's biggest telco, China Mobile. It becomes the first Microsoft WP device on China Mobile (NYSE:CHL; HKG:0941), whose unique TD-SCDMA 3G network initially proved a turn-off for handset makers.
The Nokia Lumia 920T ships before the end of the year, and will cost 4,599 RMB (US$733) off-contract. The iconic phone – with a choice of black, white, yellow or red – should prove to be a boost for the WP platform in China, where smartphone owners overwhelmingly opt for Android or iOS.
In September of this year, China Mobile had nearly 40 percent of the country's 202.18 million 3G subscribers, making it the leader by a not-too-great margin from China Unicom. But China Mobile has long struggled to get the hottest handsets due to its TD-SCDMA network, and is the only one of the nation's three mobile telcos that can't support the iPhone on 3G. But China Mobile president Li Yue was up to the task of polishing that turd:
Our close cooperation with Nokia is a key contributor to the success of China's TD [ie: TD-SCDMA 3G] industry, and will further enhance the rapidly growing TD ecosystem. We are excited about this important next step in our partnership, and we look forward to creating an even more vibrant TD industry together.
In rough translation: We need more decent phones, so this is a huge relief.
The new Nokia Lumia 920T will come with some China Mobile crapware apps pre-installed, such as its service center app, and Fetion for group messaging.
Nokia president and CEO Stephen Elop was in Guangzhou for the event in partnership with China Mobile. The Lumia 920 in its more conventional WCDMA trim is expected to come to China Unicom soon as well.
As for rivals, HTC will unveil the 8X and 8S tomorrow at an event in Beijing, taking the two WP8 phones to China Unicom and China Telecom.
[Source: TheNextWeb, and Nokia]