If you thought Nokia's (HEL:NOK1V; NYSE:NOK) China figures for 2011 were a disaster, you should see what just emerged today. Nokia's China nightmare is clearly not yet over as the country's growing middle-class continues to pick up iPhones and Android smartphones. That's the picture painted by Nokia's full-year 2012 report that came out today. It shows Nokia sales revenue down 79 percent in China from the previous year, and phone units plummeted 69 percent to a mere 4.6 million sold in the final quarter of last year.
The Nokia report details how Symbian is dying, causing dramatic drops in its Greater China numbers, and Windows Phone (WP) Lumia shipments are far from filling the gap: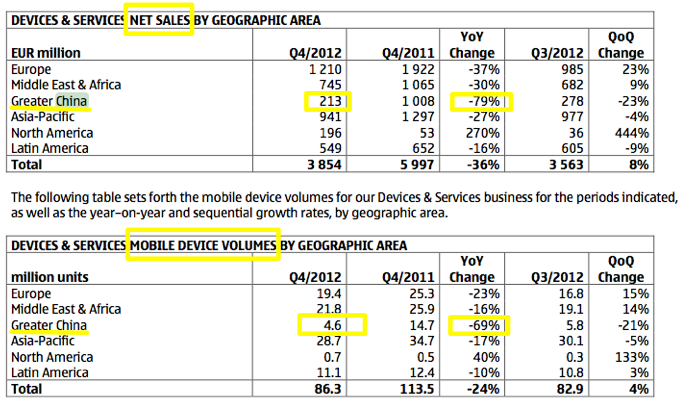 In contrast, North America net sales and volumes were up quite substantively (phone units up 40 percent) mostly thanks to Nokia's Windows Phone devices. While WP7 launched in China in March of 2012, and then WP8 last month, it appears not to have stopped Nokia from experiencing its worst ever annual report in China.
When we looked at Nokia's end-of-2011 stats, the volume of phones sold was down 33 percent year-on-year, with 14.7 million units shipped into customers' hands in 2011 Q4.
Nokia's WP offerings look great physically, so there's a chance that Chinese consumers will fall in love with Nokia all over again. But Microsoft's (NASDAQ:MSFT) Windows Phone is still not an easy sell. Yesterday, Apple boasted of doubling iPhone sales in China in the past year, and the wide variety of Android smartphone price-points – boosted by lots of homegrown handset brands – is powering Google's OS to what analysts say is 86 percent of 2012 Q4 smartphone sales in China.
With Nokia's Lumia lineup up against all this, the Finnish company's 2013 might be even more grim.