It seems that 2010 was Nokia's zenith in China, with Nokia's new SEC filing for full year 2011 revealing that last year proved to be the start of an ugly fall from grace.
Nokia (HEL:NOK1V; NYSE:NOK) net device sales in the Greater China area shrank 18 percent from 2010 to 2011, and the number of devices sold dropped by 20 percent. Looking at net sales for phones by area, China accounts for 17 percent of revenue – down just one percentage point from 2010 – to make it the third most important area for the company. But, as China's growing middle-classes switch to Android or iOS in growing numbers, Nokia's situation in the middle kingdom is a lot more critical than its numbers suggest. Here are graphs we've made showing changes in devices sold (in millions) and revenue from 2009 to 2011: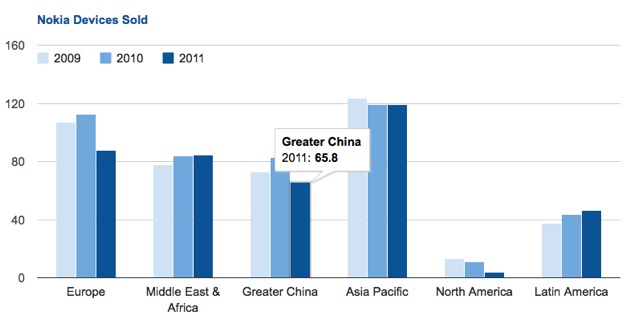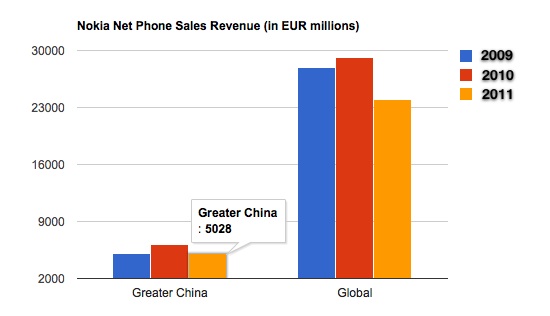 The only number going up in China was net sales for the Nokia Siemens Network business, which saw 1 percent growth in the country. But the SEC filing – grab the PDF document here – notes that the acquisition of the majority of Motorola Solutions' wireless network infrastructure assets in the middle of 2011 means that the year's numbers are not directly comparable to 2010's.
The global picture was no less gloomy, as Nokia posted a US$1.4 billion operating loss. The company sold a grand total of 417.1 million devices, down 8 percent year-on-year. Interestingly, its feature-phones suffered the least (down 3 percent to 339.8 million units shipped), while its smartphones – now using either Symbian or the WP7 platform – suffered the most, plummeting 25 percent from 2010 to 2011 to hit 77.3 million devices.
Nokia's WP7-powered phones are due to hit China this month or next, giving the phones the rest of the year to rescue, perhaps, Nokia's 2012 numbers.
Here are the full revenue and devices sold stats, with China highlighted in yellow: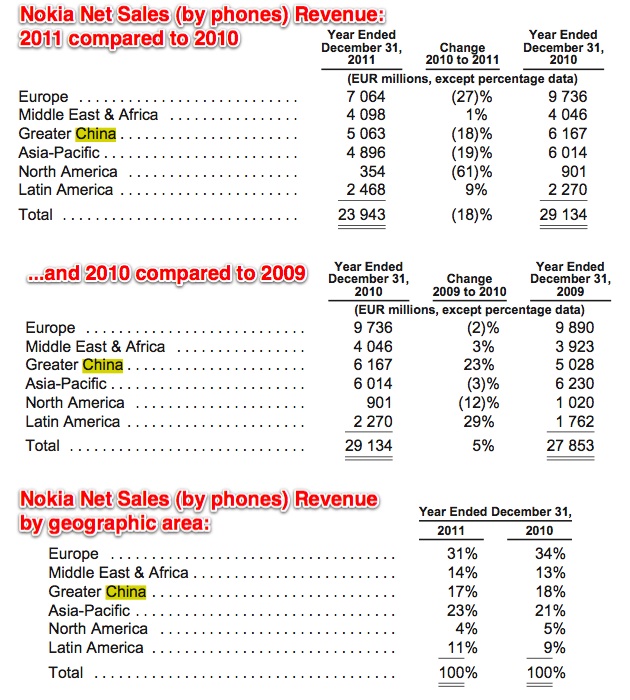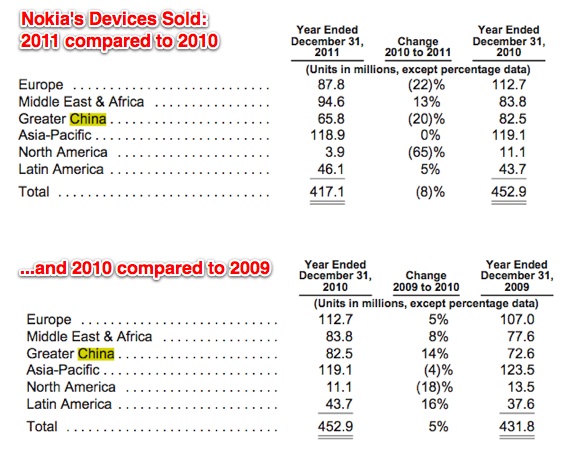 ---