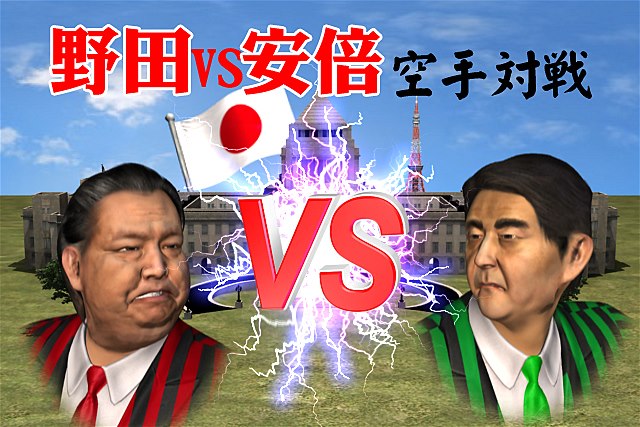 We have featured more than a few awesome news animations from from the folks at Taiwan-based NMA. Many of the company's short CG clips have attained viral video status, and the world edition of its YouTube channel now boasts more than 70 million views in total.
But I was a little surprised to find out about the its latest endeavor, which is not a video animation at all, but rather a browser-based game. It centers upon the upcoming Japanese elections, and pits the current prime minister Yoshihiko Noda against former prime minister and challenger Shinzo Abe. You can play the game over at NodaVSAbe.com, and I have to confess it gets a little bit crazy. For Japanese users it should be a lot of fun, with some poop attacks from the challenger (warning, that's not a metaphor) and strange exclamations relating to their respective campaign platforms. The visual style is sort of consistent with what you'd expect from NMA, and overall it looks like a fun little game.
I spoke to NMA's Michael Logan, who explained that the company hopes to do sort of the same thing with games as it does with video animations, aspiring to create news-based games that are a reflection of hot conversation topics in society. The games are to be developed by NxTomo, which is the brand Next Media has developed for its animation and game offerings.
So why is NMA producing games these days? Michael explains that while there is some advertising on the the game's page, the primary goal is to build more exposure for its content – and in this case, more exposure in Japan. NMA has a shiny new YouTube channel with Japanese content, and ideally its new election game can help build some awareness of that. You'll notice in the game that the ring girl holds a promotional banner encouraging players to check out the YouTube channel (pictured). NMA plans to follow up with more animated satire about the Japanese elections later in the week, so stay tuned for that. (Update: See its new video below)
Interestingly, this is not the first time that we have seen politicians face off in a web-based game. Readers may recall that earlier this year we wrote about Jakarta gubernatorial candidates Fauzi Bowo and Joko Widodo who both were featured in online games leading up to a local election.