Nitrous.IO, a Singapore and Silicon Valley-based startup that wants to eliminate the hassle of setting up a computer for programming, has raised a US$6.65 million round led by Bessemer Venture Partners.
The syndicate includes 500 Startups, Crunchfund, Facebook co-founder Eduardo Saverin, Golden Gate Ventures, and Viki CEO Razmig Hovaghimian among others.
The problem that Nitrous is trying to fix is keenly felt by novice and professional coders alike. Programmers that the startup spoke to spend an average of three to four hours to set up a computer for work – with newbies taking even longer.
"Developers have moved everything else to the cloud – documents, music, photos, and videos. [But they're] still chained to their physical workstations," says Peter Kim, the startup's co-founder and CTO.
The usual setup process involves a lot of to-dos like installing a programming language and related libraries, downloading the code for an app, creating a local database with test data, and fixing whatever technical issues that may arise from the setting up.
The team estimates that 100,000 registered developers on Nitrous have each created 1.5 projects so far, resulting in roughly 500,000 man-hours saved since it launched seven months ago.
It achieved this by essentially letting developers set up 'boxes' in the cloud, which comes with many tools pre-installed. These boxes serve as online storage for all the files that's needed for coding.
Nitrous, which supports Ruby, Node.js, PHP, and Go, includes a web development environment with a text editor, file viewer, and terminal (where coders input commands), all accessible through a browser. It also has a desktop app that syncs local files with the Nitrous cloud – akin to a Dropbox for coding – providing a compromise between a desktop environment's responsiveness and the lag when programming on a web setup.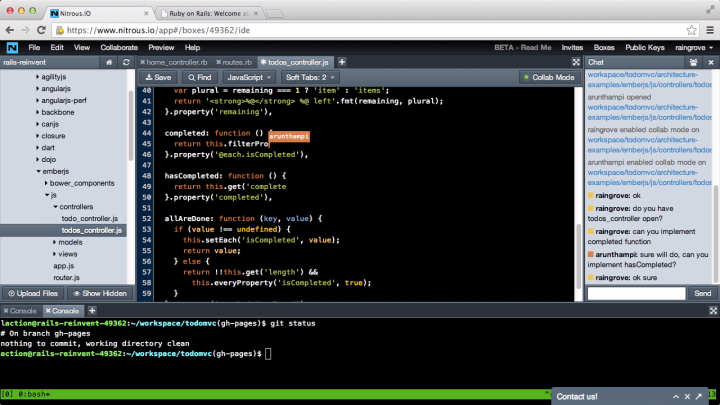 Such a configuration has many potential benefits. Professional developers are not tied to one machine, which means they don't lose productivity if their device goes missing, breaks down, or if they choose to carry another machine around.
It also makes collaboration with contract developers easier, since the external programmer could look at the code on the web, then give suggestions, run tests, or implement changes on the spot – no local installation needed.
Nitrous doesn't just cater to power users. It wants to lower the barrier to entry for newbies who want to learn the craft. Students who can't afford expensive machines can now code from their cheap Chromebooks or iPads. They would also be able to jump right in without going through the tedious setup process, saving both students and instructors hours of time.
(See: Programmer using Nitrous.IO and Chromebook to teach homeless New Yorker how to code)
Founded in Singapore by Kim, Arun Thampi, and Andrew Solimine, Nitrous received US$1 million from Silicon Valley investors last year before it launched publicly.
Thampi and Solimine previously started Anideo, a Singapore-based mobile development company also backed by Eduardo Saverin, who is based in the country.
Kim was one was the first employees at Viki, a Singapore-based video website acquired by Rakuten for a reported US$200 million. Arun met Kim while briefly working at Viki as a contractor.
While Nitrous is now mainly used by small development shops and startups, it hopes to get enterprise customers soon.
"Enterprises have additional needs around scalability, management, and audit for their development environments. We're going to grow our team so that we can extend Nitrous.IO to meet the needs of large scale enterprise clients," says Kim.
(Editing by Paul Bischoff)