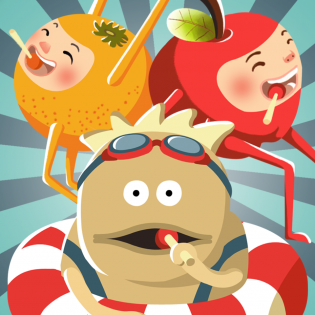 Indonesian game developer Nightspade together with candy brand Chupa Chups launched an iOS game called Give a Dam back in November. This kind of partnership with an internationally recognized brand does not happen too often among Indonesian game developers. We spoke with Hasna Tsaniya Rananti (aka Nia) of Nightspade, as well as Dillah Zakbah, the product manager of advertising agency Bartle Bogle Hegarty (BBH), the advertising partner of the Chupa Chups brand, about this latest partnership.
We briefly mentioned Give a Dam and its gameplay back when we wrote about the Jakarta Game Show. Players need to stack various characters and make sure they don't fall off into the waterfall. Nightspade used similar game mechanics in its previous game Stack the Stuff.
Nia told us that the team first met a representative from social game publisher Chuck Studios [1] and BBH during a networking session at our Startup Asia Singapore event earlier this year. They both continued the discussion back in Indonesia, which resulted in an agreement to build a game for Chupa Chups.
Dillah explained that one of the reasons Chupa Chups decided to build games is to capitalize on the immense opportunity in the mobile industry, as more and more people are actively engaged with their phones. It's sort of a spin-off of social marketing that could be called social gaming marketing. She adds:
We also have a huge fanbase of youth in the social media stream that we would like to leverage on and engage with – more than just through the standard Chupa Chups' lollipop. Our first game published – Chupa Chucker – was on the Facebook platform, so it would be nice to test out and explore mobile as well.
The target market for Give a Dam is people who enjoy Chupa Chups who also play games on their mobile phones. Dillah said that with this game, they hope to reach markets and groups that the company doesn't necessarily connect with via traditional media. But of course, she added that the main aim is to treat Chupa Chups' customers and supporters to a whole lot of fun.
Nia said that there hasn't been any discussions to port the game to other platforms – not even Android. You can download and play Give a Dam for free from the app store.
---
Chuck Studios is a social game publisher that resulted specifically from a collaboration between BBH and Chupa Chups. We understand that it exists within the BBH office.  ↩