Regular readers will know that the messaging app Line now has over 100 million registered users. That makes it hugely important to its makers, NHN Japan. That's why NHN has announced its decision to spin off the smash-hit messaging app to make what is effectively (though not yet the official name) "Line Corporation".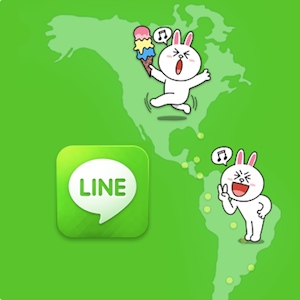 It's all part of what social gaming expert Serkan Toto calls a "big shake up" at the massive Japanese web company, which is itself a subsidiary of Korean's NHN (KRX:035420). It means that NHN Japan's gaming business will be independent under the provisional "Hangame" moniker, while all the rest – such as Line, the Livedoor web portal, and the Naver Matome news aggregator – will be under Line Corp. A date hasn't been set for the official restructuring.
There will also be a third business dedicated to Line's international operations, which bears the tentative "Line Plus Corp" name. More than half of Line's users are outside of Japan – with, for example, 12 million in Thailand alone – so it's a key battleground to wrest young users away from Whatsapp and Facebook Messenger in markets such as Southeast Asia, Europe, and North America. Line app even has some star ambassadors and users, such as the rapper Snoop Dogg, or whatever his name is this week.
Control of the new Line Corp will be split between the Korean and Japanese bases, with 40 percent of it operated by NHN in Korea. That doesn't sound very efficient. To use what might seem to be a bizarre comparison with the world of Formula 1, the official Honda and Toyota F1 teams struggled (and then quit the sport) in large part due to maintaining a very Japanese hierarchy across two nations. The social media world is every bit as cut-throat and fast-moving (and prone to crashes) as Formula 1, so there isn't time for decisions to be tossed between two complex corporate structures.
Anyway, NHN Japan is clearly reshuffling to focus on Line, as well as to bolster its social gaming platform that's so reliant on Line.
Another challenger to Line, especially in Southeast Asia, is the China-made WeChat app, which has 300 million users thanks to its large home user-base. The makers of WeChat, Tencent, also restructured recently so as to focus more on its superbly-named MIG – its 'mobile internet group'.
(Source: Serkan Toto)